FIBEP has elected Thomas Vejlemand, CEO of Infomedia A/S (Denmark) as FIBEP President to serve a three year term. Mr Vejlemand was previously acting as a Vice President on the FIBEP board since 2019.
Thomas Vejlemand, CEO of Infomedia, is a digital front runner in the Nordics. With more than 15 years of CEO-experience from digital agencies and tech-companies, he is now leading Infomedia into a new era of media intelligence through technology and performance culture as driver for digital transformation. In addition to the role of CEO in Infomedia, Thomas is an active board member in several digital/tech-companies and has lately been appoint to the board of the newly established Danish FinTech organization.
FIBEP Board of Directors
Three new Vice Presidents were also elected to the FIBEP board for two year terms:
Steffen Egelund of Media Track Pte Ltd (Singapore);
Todd Murphy of Universal Information Services (USA); and
Carlos Alfredo Diaz of GlobalNews Group (Argentina).
They join re-elected Vice Presidents:
Christophe Dickès of Kantar Media (France);
Sophia Karakeva of DataScouting (Greece);
Romina Gersuni of pressrelations GmbH (Germany);
Gabby Begas of IFAT Group (Israel); and
Oresti Patricios of Ornico Group (South Africa).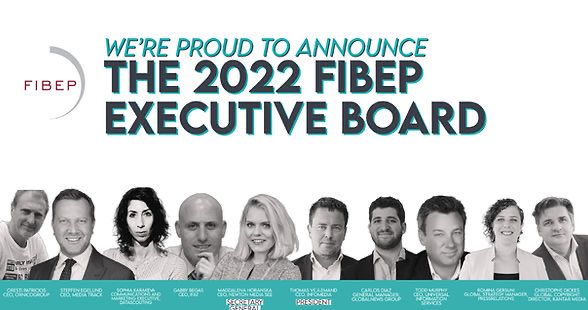 About FIBEP
FIBEP is the world's media intelligence association with over 100 corporate members from more than 60 countries. The association and its members are focused on providing globally-driven, enterprise-scale solutions in the fields of media monitoring, media analysis, PR distribution, journalist databases, as well as consulting services and SaaS platforms.
The federation was founded in 1953 in Paris and now hosts a broad range of activities including the FIBEP World Media Intelligence Congress, senior networking sessions, and a variety of high-impact research studies.
About the FIBEP World Media Intelligence Congress
With 65 years of growth and experience, the FIBEP World Media Intelligence Congress has become one of the largest events for communications, public relations, technology, social media monitoring and marketing professionals alike. The next FIBEP World Media Intelligence Congress is planned for late 2022 in Dublin, Ireland.
For more information contact FIBEP Secretariat at Secretariat@FIBEP.info
Member of FIBEP
DataScouting is a FIBEP member and a proud sponsor of FIBEP events since 2014. As a software company we are happy to be partners with FIBEP members offering media intelligence software solutions for print, broadcast, social and online media.
Our platforms minimize time and effort needed to search and find actionable information in broadcast, online, social media, and print media. Using text analytics and automatic classification, speech and optical character recognition, advertisement, logo and face identification, we help media monitoring companies and organizations streamline their workflow, create a database of media intelligence information, and share content.
Sophia Karakeva, the Chief Communications Officer at DataScouting, has been a Vice President and member of the FIBEP Board since 2015.