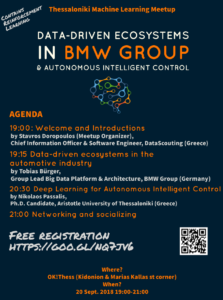 The Thessaloniki Machine Learning Meetup Group held its latest meetup regarding Data-driven ecosystems in BMW Group & autonomous intelligent control on September 20.
Keynote speaker Tobias Bürger, who leads the Platform and Architecture Group within the Big Data, Machine Learning, and Artificial Intelligence Department at BMW Group, detailed the path taken, the established technology stack and the challenges the Group faced while using data-driven technologies, forming a data-centric culture and establishing a globally available and scalable data lake equipped with data science tools within the BMW Group.
Delighted to also have Nikolaos Passalis, Ph.D. candidate in the Department of Informatics at the Aristotle University of Thessaloniki, who presented the recent developments on autonomous control and self-driving cars using Deep Learning, while outlining the use of Reinforcement Learning algorithms for developing end-to-end trainable models for autonomous control.
The Meetup is organized and hosted by Stavros Doropoulos, CIO at DataScouting.