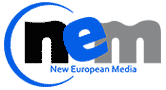 DataScouting joins NEM (New European Media), a European Technology Platform that aims at fostering the convergence between consumer electronics, broadcasting and telecoms in order to develop the emerging business sector of networked and electronic media.  NEM is supporting Europe's activities on the Future Internet and is actively contributing to the definition of the related research and innovation areas.
NEM represents the convergence of existing and new technologies, including broadband, mobile and new media, including creativity, across all sectors, to create a new and existing era of advanced personalized services. DataScouting shares NEM's vision to empower end-users in creating their media and communication environments, including user-generated content, in which the quality of access to value-added and creative content as well as services is the key enabling factor.
As a new member of NEM, DataScouting founder Mr Stavros Vologiannidis has been invited to participate in the General Assembly that will be held in Brussels on the 15th of March. Specialized in Information and Communication Technologies (ICT), DataScouting offers innovative and cost effective media monitoring solutions.