We are thrilled to be attending the 51st FIBEP World Media Intelligence Congress in Lima, Peru, from the 5th until the 7th of November.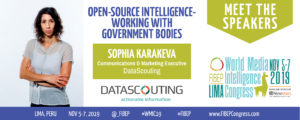 This year's theme will be Exploring and Expanding the Media Intelligence World and the program will include a wide range of best practices and topics relevant for media intelligence and communication professionals including social media monitoring, privacy, and data integrity, copyright, the evolution of data consumption, measurement, PR trends, technological developments and future outlooks for communications and media intelligence industries.
We will be presenting a best practice on Wednesday, "Open-Source Intelligence-working with government bodies".
TOP Reasons why to meet us at FIBEP WMIC19
DataScouting's platforms minimize the time and effort needed to search and find actionable information in broadcast, online and print media. Using text analytics and automatic classification, speech and optical character recognition, advertisement, logo, and face identification, we help media monitoring companies and organizations streamline their workflow, create a database of media intelligence information and share content.
Augment your broadcast, online and print media intelligence operations with our MediaScouting Suites:
News Insight: identify relevant news quickly and with minimum effort
Ad monitoring: track and annotate new advertisements
Data augmentation: logo and face recognition, machine translation
Dashboard: multi-platform content delivery
And there is more we can talk about:
Multilingual text analytics: classification, entity extraction, and machine translation
Automatic Speech Recognition: transform speech to text almost in real-time
Machine Vision: logo, trademark and face recognition
Audio processing: ad and speaker identification
For more information, you can check out our brochures (English, Spanish, and Portuguese)
More opportunities to network together
As part of the 2019 FIBEP World Media Intelligence Congress, FIBEP will introduce on Monday, November 4, the Tech Day, from 1pm until 6pm, to bring together local media monitoring companies and international experts specialized in the latest and greatest technologies for the media intelligence industry.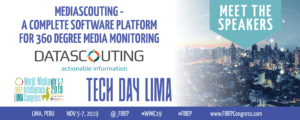 Don't miss our presentation: MediaScouting – a complete software platform for 360-degree media monitoring.
FIBEP Tech Day is free of charge for media monitors from Latin America. Facilitators will be available for English and Spanish.
Super Networking Session – November 5th
This year, the Super Networking Session (SNS) will be held on Tuesday, November 5, from 5pm until 6:30pm. SNS is a speed networking session that allows FIBEP members to get to know each other more, meet the right people and partner together. So, let us make the most out of the SNS together!
Schedule a meeting with us
The WMIC19 is held at the JW Marriott Hotel. If you are interested in booking a meeting with us, please contact Sophia Karakeva, at soka@datascouting.com