By Eleni Partalidou, Software Engineer, DataScouting
I had the opportunity to attend my first Web Intelligence Congress that took place in Thessaloniki from the 14th until the 17th of October. This year's theme was Web Intelligence = AI in the Connected World.
A few words about Web Intelligence
Web Intelligence (WI) aims to achieve a multi-disciplinary balance between research advances in the fields of collective intelligence, data science, human-centric computing, knowledge management, and network science. It is committed to addressing research that deepens the understanding of computational, logical, cognitive, physical as well as business and social foundations of the future Web, and enables the development and application of intelligent technologies.
WI'19 features high-quality, original research papers, and real-world applications, in all theoretical, and technological areas that make up the field of WI.
WI'19 welcomes research, application as well as Industry/Demo-Track paper submissions. Tutorial, Workshop, and Special-Session proposals and papers are also welcome.
My top takeaways
On Monday's workshops "Web for Smart Cities (Web4City 2019)" there were some interesting talks going on. In the presentation of "Traffic Analysis in a Smart City" Chiara and Laura investigated parameters, such as the day of the week, the location in the city and the number of facilities near a location, in order to solve the traffic problem in Italian cities. Next, "Predicting parking occupancy via Machine Learning in the Web of Things" was introduced, where the presenter used real-time historical and weather data of location for training and compared a neural network with a random forest to solve the parking problem.
Tuesday started with the opening keynote of Maarten de Rijke who talked about "Conversations based on search engines result pages". He mentioned task-oriented systems, like booking, and systems that use background based conversation and generated a response by referring to previous knowledge. He touched the challenges of finding knowledge for systems and also the repetition problem. After that, in the Web of People session, Dimitrios Rafailidis described in his presentation, "Bayesian Deep Learning with Trust and Distrust in Recommendation Systems", the importance of friends' selections for recommendation (after all, users trust the selections of their friends) and reported at his experiments the SDPL model as the best choice. At the next keynote talk of "Web Futures", Steffen Staab cited the observation of microinteraction in the web for web science and how technology and society determine each other.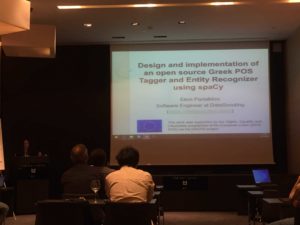 On Wednesday there were some pretty interesting presentations of papers. In "APNEA: Intelligent Ad-Bidding Using Sentiment Analysis", the mismatch of advertisements and text was shown when using contextual advertising and APNEA was proposed, a fast algorithm that reduces the unfortunate placement. Also, in "SentiLangN: A Language-Neutral Graph-Based Approach for Sentiment Analysis in Microblogging Data", it was mentioned that Twitter can be the most popular microblogging platform and a Kaggle dataset was used for sentiment analysis with different models.  My presentation of "Design and implementation of an open-source Greek POS Tagger and Entity Recognizer using spaCy" was in the afternoon, where I introduced the challenges in creating Natural Language Processing models for inflective languages, such as Greek and the experiments that were conducted.
Thursday closed with different presentations on Web of Data and Web of Trust. In "Personality recognition in Conversation using Capsule Neural Networks" the author talked about how users show different reactions based on their personality and showed the architecture of the model that was used, where words are considered as capsules. Additionally, in "Check-It: A plugin for Detecting and Reducing the Spread of Fake News and Misinformation on the Web", Demetris discussed the evaluation of fake news from a dataset that used as features syntactic and historical information.
In general, the conference had remarkable topics and very friendly participants. It was an exceptional experience that I would surely recommend.