DataScouting attended the Copyright Talks event that was organized by FIBEP and was hosted by Auxipress, at their Brussels office on the 31st of January.
Christophe Dickès, Global Copyright Director & EMEA Communication Leader at Kantar and FIBEP Vice President, put together the professional agenda. More than ten distinguished speakers talked about the latest developments in copyright in relation to the media intelligence industry. Topics included
An Update on the EU Copyright Directive
How European jurisprudence and EUCJ can help the media intelligence industry
European Commission and Publishers: the client-side
Italy: Rome's court of appeal decision in June 2019
Do we have to pay for photos? A serious question addressed by Newton Media and Kantar
The Bulgarian Copyright Field
Can a publisher refuse to provide own feed?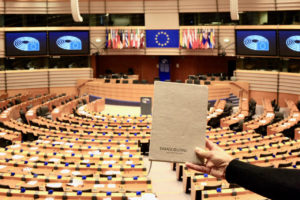 During the open debate, in a full room, more than 40 FIBEP delegates discussed the crucial issue of whether end-users have to pay copyright when providers already pay copyright.
The event was a huge success, not only because of the excellent professional agenda that it offered, but also thanks to the warm and exceptional hospitality of the Auxipress team.
A day before, on the 30th of January, FIBEP organized for its members a tour at the European Parliament.
The upcoming FIBEP events are:
2020 Tech Day – to network with fellow CTOs, to learn the latest tech and trends transforming the media intelligence landscape
2020 International Sales Day – intended for international sales staff who interact regularly with their counterparts around the world
We are excited to be hosting both events, in Athens, on the 22nd of May.
Registration is open and you can now reserve your place. Both events will be held at the Royal Olympic Hotel.
Interested in exploring Athens? There is a tour for FIBEP members on the 21st of May.