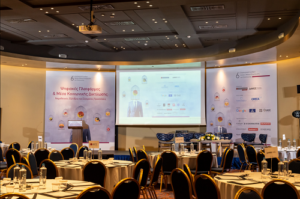 DataScouting talked about artificial intelligence and hate speech at the 6th Media & Communication Law Conference (DiMEE). The conference was organized by the Nomiki Bibliothiki and the scientific journal "Media & Communication Law" in cooperation with the Economia Group. The 6th DiMEE was held on the 7th of February in Athens.
This year's theme was "Digital Platforms & Social Media: Law and Challenges". Over 20 expert speakers and over 200 delegates attended the conference. The program was divided into four sessions, whereof the first one, moderated by Associate Professor Athanasios Tsevas, dealt with Individual Rights & Digital Platforms: Limits on new internet superpowers. The panel was featured by six distinguished speakers, including Sophia Karakeva, Communications and Marketing Executive at DataScouting. Sophia talked about hate speech on social media, and the EU-funded DACHS project, that was executed by the European Journalism Centre and DataScouting.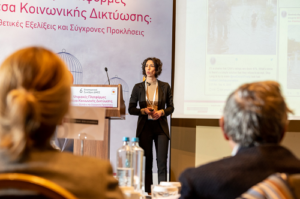 Sophia explained the objectives and outcomes of the DACHS project, which focuses on the automation of hate speech recognition in order to facilitate its analysis in supporting countermeasures at scale.
Within the DACHS project, DataScouting developed:
a deep learning-based hate speech detection model.
an open-source hate speech database in five languages (English, German, French, Spanish, and Greek).
an alert mechanism that allows journalists to receive live alerts and/or generalized reports with aggregated hate speech and personal attack statistics, based on content posted on their timeline.
an annotation extension (Chrome extension) for journalists to annotate and flag hateful content on Twitter and YouTube and contribute examples to the DACHS database.
hatedetection.com is a place where journalists, scientists, researchers, and other interested parties can access and further analyze the results of the DACHS project.