By Eva Katrinaki, Library and Information Systems Manager, DataScouting
In this piece, I will share my personal reflections and key insights gained from my participation in the Open Science Conference that took place on June 27-29, 2023 online. The 228 participants from 34 countries were offered a diverse program of 14 presentations, 21 practical solutions, eight workshops, and one panel. As a passionate advocate for open science, attending this conference was a transformative experience that allowed me to delve deeper into the principles, challenges, and future of Open Science. Every year, researchers, libraries, practitioners, infrastructure providers, policymakers, and other stakeholders from around the world gather – online this time- at the Open Science Conference to explore current and upcoming Open Science findings. The 10th anniversary of the conference highlighted both the strategic and practical implications of Open Science as well as the obstacles in the scientific community that continue to prevent its widespread adoption. In his introductory remarks, Professor Klaus Tochtermann, Director of the ZBW – Leibniz Information Center for Economics, discussed the development of the Science 2.0 Conference since its inception in 2014. The conference offered information on recent changes in the global Open Science movement as well as useful technologies supporting the use of open concepts.
My 5 takeaways from the 10th Open Science Conference are: 
The importance of open science cannot be overstated. Throughout the conference, I learned about the numerous benefits of open science, such as increased collaboration, reproducibility, and transparency in research. It was inspiring to see how open science is revolutionizing the way we conduct and share research, ultimately leading to more impactful and trustworthy scientific discoveries, democratizing research and ultimately knowledge.
Collaboration is at the heart of open science. The conference highlighted the power of interdisciplinary collaboration and the importance of breaking down silos between different fields. By working together and sharing knowledge, we can tackle complex scientific problems more effectively and accelerate the pace of discovery. Open science truly fosters a sense of community and collective progress and can potentially reduce research waste.
Challenges still exist in implementing open science practices. Some of the challenges in implementing open science practices include resistance from traditional academic institutions and researchers who are hesitant to change their established methods. Additionally, issues such as data sharing and intellectual property rights need to be addressed to ensure fair and ethical practices.
Increasing transparency and accountability. Open science promotes transparency by making research methods, data, and results openly available. This allows for greater scrutiny and replication of studies, ensuring the validity of findings and preventing fraudulent or unethical practices.
Enhancing public engagement. With open science, the general public can have easier access to scientific knowledge, which enables them to stay informed about the latest discoveries and developments. This fosters a more engaged society that is better equipped to understand complex issues and make informed decisions on matters.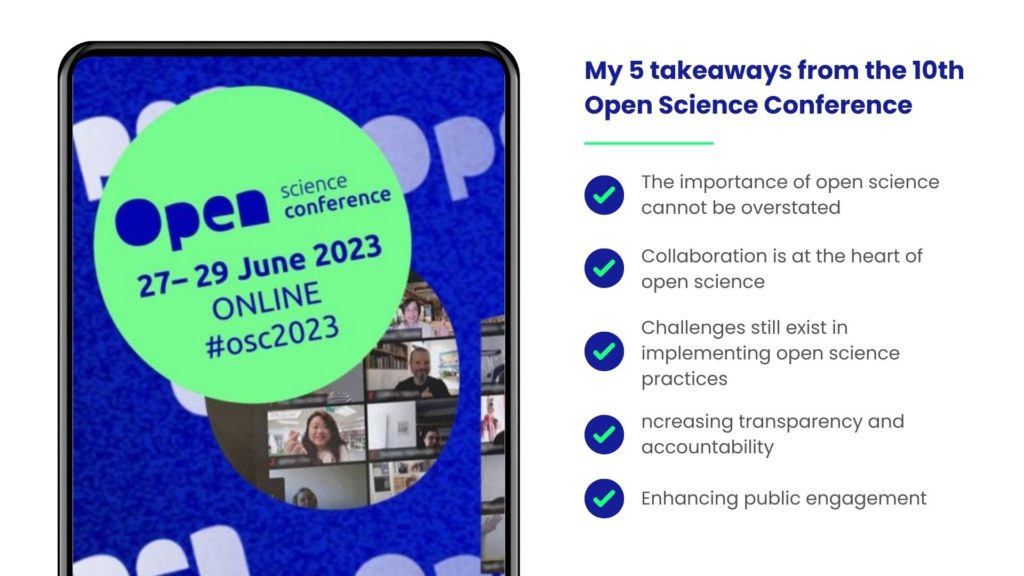 Specific presentations or workshops that introduced me to novel tools, methodologies, or research practices relevant to open science:
(Talk) Open Science Indicators: A New Tool to Understand Researchers and Our Progress towards Open Science by Iain Hrynaszkiewicz, PLOS
The author discusses the importance of trustworthy statistics on Open Science practices to support advancements and analyze regulations. In 2022, PLOS launched the Open Science Indicators (OSI) project, evaluating the adoption of Open Science practices in scholarly literature. The project focuses on sharing data, code, protocols, and preprints. The project, based on six guiding principles, was developed by PLOS and DataSeer to deliver OSI using Artificial Intelligence. Additionally, by using AI, the project can analyze large amounts of scholarly literature to identify trends and patterns in Open Science practices, enabling researchers and policymakers to make informed decisions about regulations and advancements in this field
(Talk) Leading Change in Organizations: Towards an Open Knowledge Infrastructure for Nature, by Jana Hoffmann, Museum für Naturkunde Berlin
Taking up Open Science strategically in Museums, Libraries and Memory Institutions. The collections held by GLAM organizations are to be turned into an open knowledge infrastructure that can be accessed using digital tools. This will advance research and improve communication between academia and the general public. Jana Hoffmann and Ludwig Hülk, the keynote speakers, demonstrated how on-site and virtual spaces may be merged to increase information accessibility and foster public participation. The collections provide an exceptional backdrop for investigating offbeat ideas.
(Workshop) Harmonizing Access Procedures for Sensitive Data
The session started with a quick review of the ODISSEI infrastructure and project with the goal of discussing how to safeguard sensitive data while coordinating access rules for sensitive data.
(Workshop) How Can Open Science Reduce Research Waste across Fields
Research waste, which is the term for studies with little to no educational value, was covered in this session. Only the domains of medicine and ecology have been evaluated thus far, with 85% and 82-89% of research being lost, respectively. This leads in enormous loss of important data and invested money, with an estimated $170 billion wasted each year in only medicine. Initiatives in open science could prove able to reduce this problem.
(Workshop) Research Infrastructure Roles: Perspectives, Paths, and Open Research Practices
The discussion centered on research infrastructure, open research techniques, designated positions, and developing a culture that encourages academic career options beyond the norm. Participants discussed open practices implementation and creating greater chances for non-traditional academics from their own experiences and points of view.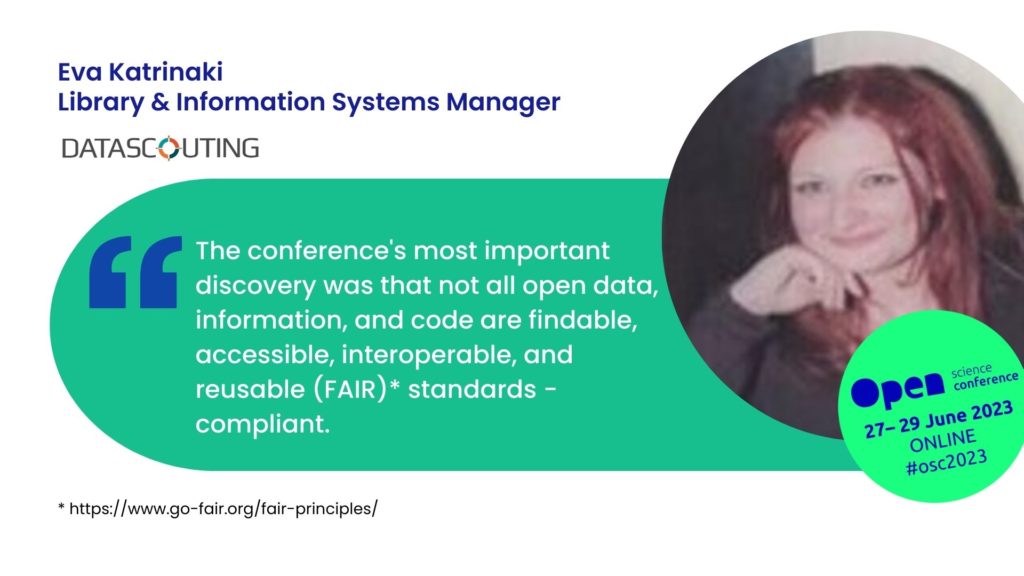 Since 2015, DataScouting has a dedicated department for Libraries, Archives and Museums. Following the very latest technologies and implementing innovative solutions DataScouting provides Libraries and Information Centers, Archives and Museums and other cultural heritage organizations with tools to empower both staff and users.
Our solutions and services  help organizations and institutions to make their collections accessible to the world and preserve the cultural heritage through interoperability with cultural content aggregators, such as Europeana and SearchCulture. The tools we develop, enrich information and digital content, using optical character recognition, AR & VR technologies, unified search capabilities and enhanced viewing software.
You can check some of the projects that our team has delivered in Greece and abroad here.
Αbout the Open Science Conference: 
The Open Science Conference is an annual international conference dedicated to the Open Science movement. It provides a unique forum for researchers, librarians, practitioners, infrastructure providers, policy makers, and other important stakeholders to discuss the latest and future developments in Open Science. In 2023, the conference celebrated its 10th anniversary. The conference is a virtual event and hosted by the Leibniz Strategy Forum Open Science and organized under the lead of the ZBW – Leibniz Information Centre for Economics.
The conference offers insights into both practical and technical innovations that serve the implementation of open practices as well as current and pioneering developments in the global Open Science movement. Such developments are, for example, the increasing plea for open practices as lessons learned from global crises as well as recent discussions on the relation of Open Science, civic science education, and knowledge equity. Furthermore, the conference offers many opportunities for networking and exchange.