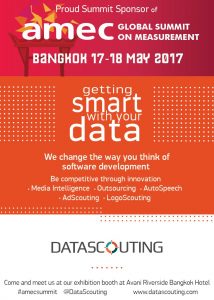 DataScouting will once again participate in the AMEC Global Summit on Measurement that will be held this year in Bangkok on 17 to 18 May. This is the 1st AMEC Summit taking place in Asia, with impressive industry support and attracting 180 delegates from 37 countries.
The 2017 Summit theme "The Age of Disruptive Communication – Measurement, evaluation and insights in the age of change" will address the need to understand the disruption that is taking place in communications and take advantage from the changing environment. Take a look at the programme and learn from more than 55 speakers.
This year, we are proud to be a Summit Sponsor and happy to be exhibiting our Media Monitoring Software Solutions for Print and Broadcast with tools for News Insight, Ad Monitoring and Logo Detection. DataScouting is an AMEC Associate member since 2014.
AMEC is the international association for the measurement and evaluation of communication.