The TechPro Academy Bootcamp kicked off on 13 February and it welcomed 25 students. We are happy to support the 1st Tech Pro Full Stack Bootcamp that will run for 3 months and includes reskilling and upskilling training on technical & soft skills designed by companies, like DataScouting, to absorb STEM graduates in the sector of IT/Technology.
The 3month TechPro Academy Bootcamp has an intensive program that includes onsite courses, company visits, workshops and seminars delivered by senior company executives and academics. Upon completion, candidates will receive job offer from the participant companies. As a supporter of the 1st Tech Pro Full Stack Bootcamp DataScouting has these job openings:
"DataScouting stands by TechPro Academy as a sponsor and a supporting company, believing in the power of talented people who want to evolve through reskilling / upskilling. This support guarantees the scalability and prosperity of the IT industry," says Tom Avramis, Founder and Managing Director of DataScouting.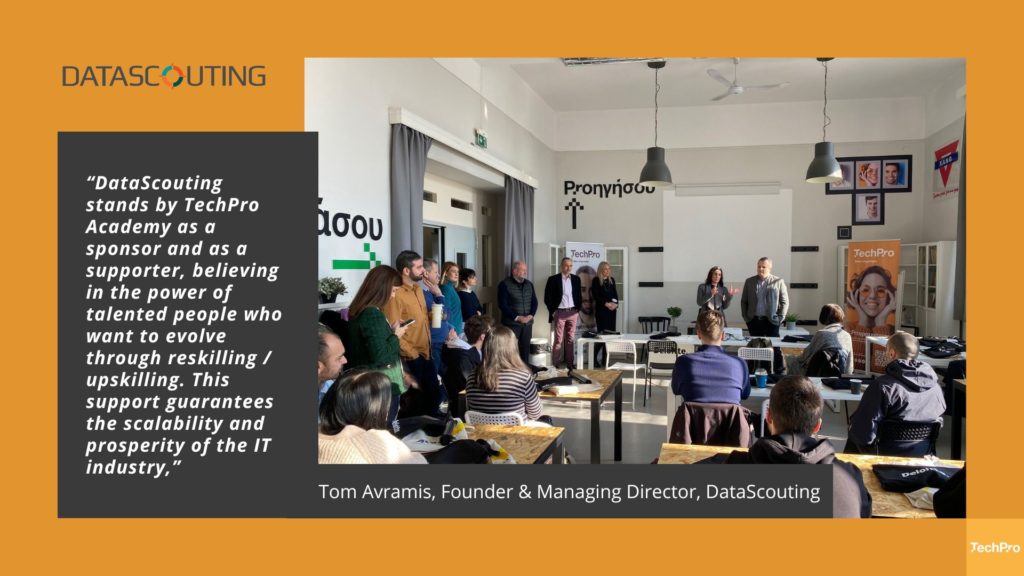 DataScouting is a service provider and software developer for Information and Communication Technologies (ICT), specialized in developing innovative solutions for media monitors, libraries, archives, museums, institutions, organizations and companies. Using technologies such as Optical Character Recognition, Natural Language Processing, Automatic Speech Recognition, Logo Detection and Data Mining, DataScouting provides intelligent solutions for managing and delivering actionable information.