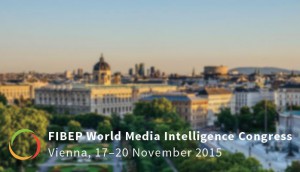 With over 40 years of growth and experience, the FIBEP World Media Intelligence Congress has become one of the largest events for communications and marketing professionals alike to meet and share their knowledge and experience on the latest developments in 360-degree monitoring, on-and offline, and learn about the future of media intelligence and reputation management.
The 47th FIBEP World Media Intelligence Congress will take place in Vienna this year, 17-20 November. So, why you should you miss the largest media intelligence event of the year?
It is the largest media intelligence congress, a must attend event for media monitors, PR specialists, evaluation professionals, communications directors, CMOs, CIOs, CTOs, social media monitors, and technical providers.
Networking opportunities: Connect with more media intelligence specialists in one place than you will find anywhere else in the world. But most importantly, this is a unique family-like network from which all members build lasting professional and personal friendships.
Hear from the best: Over 40 industry speakers and top clients will be taking part in the four-day congress. Meet the best and the brightest to share what they know and discuss strategies that are working. Position yourself as an expert and be a speaker (more at info@wmicongress.com)
Leading Tech Info: For the first time, a technical workshop will run alongside the main program on Wednesday, 18 November. To see the full four-day program click on this link.
Always something new! FIBEP awards for the first time. FIBEP is not just about our industry knowledge and our position with the global market, if it were not for our members, we would not be one of the largest associations in media intelligence and communications. This year, we wanted to show our appreciation in a different way. Keep an eye out for how to take in nominations.
Super Networking Session: Speed session helps you learn more about each other in just 15-minutes and provide a great opportunity for partnerships. Bring business cards. Lots of them.
Become a member! That includes so many great benefits well beyond the congress. To find out how you can become a member click on this link.
Get involved: Latest technologies on parade. Evaluate vendors, exhibitors and suppliers. The exhibit hall is filled with companies showing off their newest offerings. The conference is graciously supported by an exclusive group of sponsors. More at this link.
Opening the doors: Go ahead and invite your clients and partners to attend the second half of WMIC15, from 19 to 20 November, and provide them the unique opportunity to exchange ideas, knowledge and experience across the broader industry.
You will get to visit Vienna! One of the most elegant cities in Europe. For the whole of 2015, the city is gearing itself up to celebrate several anniversaries and events. To find out more about Vienna, click here. FIBEP is holding the FIBEP World Media Intelligence Congress 2015 at the Hotel InterContinental, located in Vienna's city center. More at this link.
Take part now – it's easy! To attend the 47th FIBEP World Media Intelligence Congress in Vienna, register here.
DataScouting will be attending as a sponsor and an exhibitor, ready to showcase is MediaScouting suits for Print and Broadcast.
See you in Vienna!