The 46th LIBER Annual Conference, hosted by the Library & Information Centre of the University of Patras, was held from 5 to 7 July in the city of Patras.
More than 300 delegates from over 40 countries were present. Over the 3 day program delegates built links and collaboration with each other, identified the most pressing needs for research libraries and shared information and ideas for addressing those needs.
We were happy to be an exhibitor and showcase our solutions and services for libraries, archives and museums. We help libraries manage, preserve and enrich their data. With the right management structures, the highly skilled personnel and the state of the art software and hardware, our team is set to successfully complete any project. Using proven processes and with strict devotion to international standards, DataScouting digitizes any content (print, audiovisual or digital), while indexing all the relevant data into web-accessible platforms with full-text search capabilities.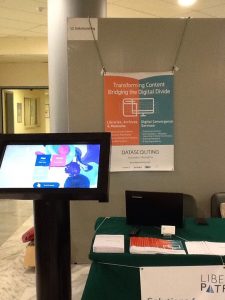 Our core technologies and expertise include:
Scalable speech to text solutions that transform spoken language to text (vernacular languages, idiomatic expressions, different accents).
Text processing in multiple languages using Natural Language Processing and Machine Learning algorithms for automatic part of speech tagging, entity and place detection and classification.
Machine vision algorithms such as logo detection and image recognition to process images and video and automatically add searchable metadata to the content.
Parametrized open source installations of repositories (DSpace, Eprints, OMEKA).
LIBER's Annual Conference is one of the most important gatherings for research library professionals. The next conference will be held in the city of Lille in France.
About LIBER
LIBER (Ligue des Bibliothèques Européennes de Recherche – Association of European Research Libraries) is the main network for research libraries in Europe. The association, founded in 1971, includes more than 400 national, university and other libraries from over 40 countries. LIBER's Annual Conference is one of the most important gatherings for research library professionals. During the event, participants can build networks and share information and ideas with one another.