Marion McDonald, Chief Strategy Officer at Ogilvy Public Relations Asia Pacific, talks in this interview about the factors that are driving the acceleration towards smarter impact and business outcomes measurement. Moreover, Marion shares her view about AVE and EMV, describes PR skills while moving from content marketing to content personalization and explains why PR specialists and journalists will not be coming together to restore trust in real news.
Q: Switching from output to outcome and impact – this was one of the most discussed trends at the AMEC Global Summit in Bangkok in May. Is it difficult to advocate this trend back to your office team and help your clients align their communications objectives with organizational objectives? 
​Marion: There are two factors driving the acceleration towards smarter impact and business outcomes measurement. Firstly, we live in an increasingly short-term focused world. Businesses face more pressure on their short-term revenue results – unsurprisingly, this correlates with shorter tenure in marketing roles. In this business climate the investment in long term brand reputation building tends to be de-prioritised and we see increasing pressure on communications professionals to prove revenue contribution short term. Secondly, while we know instinctively that PR is one of the most cost effective marketing channels, we have lacked the proof within our own companies. Quoting PR's typical 300-800% ROI proven in market mix modelling studies by Procter & Gamble, SAB Miller and others can get your foot in the door at budget time, but isn't granular enough to defend PR investment when it comes to the first round of budget cuts. As a result, there is now a much greater interest from communications professionals to prove that PR is a low cost revenue generation centre, not simply a cost centre. This has lead to many more requests in the past 12 months to guide our clients to smarter measurement frameworks and business metrics.
In my view, most marketers have a better business impact story to sell than they ever dreamed. The majority just don't know how to prove it. Yet proving the impact of earned media on business results is their smartest path to secure essential funding. I would estimate around 25% of marketers understand this, so there is a clear role for AMEC as the major comms education body into the future.
We need more CMO's with confidence in earned media and that requires some understanding of how earned media works, not just slapping a value on it in line with their advertising metrics. In most industries, and especially for B2B companies:
Paid media is effective for mass awareness
Owned media facilitates research, education and comparison shopping, once you're aware
Customers don't return to paid and owned channels – why would they need more company propaganda at this stage of the journey?
This is where earned media plays a much more critical conversion role than most CMOs realise. Earned media builds confidence and trust through peer to peer recommendation and positive impressions. Despite the rush of consumer brands to earn "free" media coverage to extend their integrated campaigns, it's even more powerful in B2B where confidence and trust matter more than awareness.
Q: Earned Media Value (EMV), a modern version of Advertising Equivalent Value (AVE), is being promoted by public relations agencies as new form of measurement. What's your view?
Marion: I don't see this as any more credible or useful than AVE.
EMV is attempting to calculate the same thing as AVE now applied to social media cost per thousand (CPM) measures. There are so many variables that influence CPM: industry, type of content, seasonality, time of day;even how effectively you can cut through on any given week depending on what's happening in the news cycle (try getting the usual impact in the middle of a terrorist attack/election/royal family death/Kardashian scandal etc). I've seen Weibo in China quote an average CPM of 15RMB (around €1.90). This number will be nowhere near accurate ranging across cloud computing content to a beer brand experience stunt.
The bigger problem is that EMV is still counting an abstract number and distracting marketers from getting any closer to an ROI – which has NOTHING to do with earned media values and is purely a function of associated sales revenue.
Q: From content marketing to content personalization – will PR pros need to develop multifaceted skills, including content development, project management and coding?
Marion: In my view, PR professionals need to worry about crafting the right message that will drive impact and desired behaviour change. This comes from being a great storyteller and applying the science of behaviour change to your campaigns. A great media agency can personalize and deliver facts to a highly targeted individual prospect in a very cost effective way. However, unless you know that facts not only fail to change peoples' minds but can alienate them further, then you are maximizing delivery of the wrong communication approach.
For this reason, we set up The Ogilvy Center for Behavior Science this year. Lead by Christopher Graves, who has a brilliant and relentless curiousity for the science of behaviour change, we use decades of research findings to build campaigns that change minds and behaviour. We tailor our storytelling approach and even selection of the right messenger to align with our target customers' worldview,not only for brand marketers, but also for policy-makers and CEOs.
Targeting and content management skills matter, but they simply optimize delivery methods and channels. Overall, we need to stop obsessing about coverage volume, cost per click, AVE, EMV or any other vanity metric that makes us feel famous for a week. Understanding who your customers listen to, what they think about you now and what stories will change their mind about you is 10 times more important than delivery. You can hire for better delivery skills, but you must be great at crafting the message first.
Q:  PR audiences are data driven and demand multiple sources for credibility – is this new reality an opportunity for PR specialists and journalists to come together and restore trust in real news?
Marion: I've invested in and am closely following WikiTribune at the moment. It's an online journalism project by Jimmy Wales, founder of Wikipedia. 'Wiki' highlights the community aspect of the collaboratively edited paper. A news wiki. Paid staff journalists will write stories that are edited by community members who fact check. This is an interesting news experiment to me.
Do I feel that it will bring PR people and journalists together in cooperation to restore truth in real news? Not for a minute. Because humans are not obsessed with facts, they want to be entertained with great stories that move them. Trump knows his fans are binge watching Netflix, not reading the encyclopedia!
When did you last honestly fact check a social media post by a brand? Sure, we might SAY we scrutinise how brands really behave. We're supposed to agree that's important and that we're clever enough to check up on them. But have you actually done this personally in the last week…month…ever? AI is data driven. Humans are story driven.
In my view, great communications leaders need to focus on getting the message right, hire the delivery skills needed to target it, and find ways to prove its impact on business goals.
About Marion McDonlad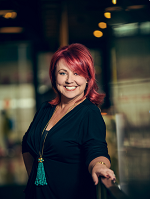 Marion leads training in strategy, effectiveness, media coaching, storytelling and presentation skills for Ogilvy professionals and clients across Asia Pacific.Prior to joining Ogilvy, she grew sales and market share for global brands at Procter & Gamble, Reckitt Benckiser, Revlon and Allergan/Botox. With Ogilvy, she has led global PR strategy for beauty, auto, fintech and pharma brands. She was awarded a Lifetime Fellow of AMEC in 2015 for services to global PR effectiveness education.
Australian-born, she has become an 'Asian stir-fry' with 18 years in Asia based in Japan, Hong Kong, Shanghai, Singapore, Bangkok and Myanmar, putting her Masters I International Marketing to good use.
Marion is a trained team facilitator, passionate training presenter and a musical theatre director, performer and producer. She also has a Diploma in Canine Behaviour and trains shelter dogs at SPCA Hong Kong.
You can reach Marion via email, follow her on Twitter, or connect on Linkedin.
About Ogilvy Public Relations

Ogilvy Public Relations (Ogilvy) is an award winning, multi-disciplinary, communications leader operating in more than 85 offices from every corner of the globe. In 2016, for the fifth consecutive year, it was crowned Cannes Lions Network of the Year and Ogilvy tops the Global Creative Index by the Holmes Report, where it has consistently ranked no. 1 or 2 since 2012. Ogilvy is the 2016 recipient of the PRWeek Global Creative Campaign of the Year and Non Profit Campaign of the Year, and holds the Consultancy of the Year titles in Asia Pacific and the Middle East by the Holmes Report. Ogilvy PR is a unit of Ogilvy & Mather, a WPP company and deeply integrates with all disciplines (advertising, content+social, direct marketing, activation, promotional, and entertainment). For more information, visit our website at www.ogilvypr.com or follow us at @ogilvypr.