Making ad monitoring in print easy to do it right!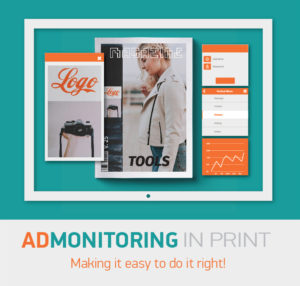 Do you currently use technology to automatically monitor and identify ads in print media? Are you thinking of outsourcing the process of ad monitoring? Would you like to have a single technology partner for your entire media monitoring process (print and broadcast, ads and news)?
MediaScouting Print Ad Monitoring streamlines and automates the process of advertisement monitoring:
• Manage the entire life-cycle of creatives and add all the necessary metadata such as products, markets, sectors etc.
• Add each publication's rate cards and let the system automatically calculate advertisement costs.
• Clip and annotate content via a user-friendly and fast web interface.
• Automatic advertisement identification using image and text analytics: your team just verifies the automatic assignment.
• Assure quality through multiple verification steps.
At the same time, your clients will have a web-based portal to access all the information they need in real time.
• Create reports about competitive spending, including media usage data and spending estimates.
• Monitor and compare categories, products, brands, markets.
• Deliver proof of performance.
• Analyze pricing policies and brand positioning.
Get a free demo to find out more?