DataScouting participated in the IFRRO World Congress that took place in Athens from 23 to 25 October.  IFRRO is the International Federation of Reproduction Rights Organization.
The IFRRO Congress this year was about the technological developments and their effect on journalism and media in relation to copyright of right-holders and their collective management. More than 300 delegates from over 50 countries attended the congress. Sophia Karakeva, Communications and Marketing Executive at DataScouting and FIBEP Vice President was invited to present on hate speech, and how is it monitored and tagged in social media.
In her presentation, Sophia  referred to the DACHS (A Data-Driven Approach to Countering Hate Speech) project that is being funded by the EU (under the Rights, Equality and Citizenship Programme 2014-2020) and has been awarded to DataScouting and the European Journalism Centre (ECJ). The primary objective of DACHS is to detect underlying patterns of, and develop strategies for journalists to counter hate speech, including closer collaboration with platform operators.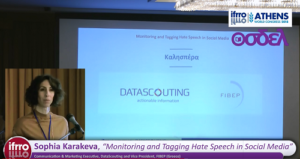 Sophia had a second presentation on 25 October about the evolution of use of web content by media monitoring companies, as part of the IFRRO Newspapers and Periodicals working group session, chaired by Sandra Chastanet, Director Rights Holders and International Affairs of CFC (Centre Français d'exploitation du Droit de Copies).
The IFRRO Athens World Congress was organized and managed by OSDEL (Greek Collective Society for Literary Works – Greek Reproduction Rights Organization).