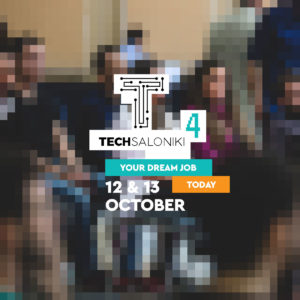 TechSaloniki is back again! A two-day event at the Royal Theater, 12-13 October.
This time, 18 of the largest ICT companies in Thessaloniki are looking to recruit new talent – Web Developers, Mobile Developers, Engineers, Data Scientists, Consultants, Project Managers, QA Consultants, Quality Test Engineers.
Find the perfect match for you, based on your skill set. The Skills Matching will take place on Friday, October 12, from 14:00 until 20:00.
Get ready for interviews on Saturday, October 13, from 10:00 until 13:00.
So, don't miss the opportunity to be part of this unique skill matching event in information technology.
Come and meet us! We're looking for Java Software Engineers and Data Scientists. Maybe you will be the next talent to join our team.
For more information please check TechSaloniki 
Get involved on Facebook, LinkedIn and Twitter