The 2nd TechPro Academy Bootcamp kicked off on 2nd of October and it welcomed 50+ students. After the success of the 1st Bootcamp earlier this year, we are happy to support the second edition of this successful education and training programme. It will run for 3 months and includes reskilling and upskilling training on technical (FrontEnd, BackEnd, Data Science) & soft skills (technical writing, technical presentation for mixed audience, best coding practices, collaboration tools, time management, meeting typologies) designed by companies, like DataScouting, to absorb STEM graduates in the sector of IT/Technology. All students will complete the course by submitting a project.
The 3month TechPro Academy Bootcamp has an intensive program that includes cross-stream workshops, onsite courses, company visits, workshops and seminars delivered by senior company executives and academics. Upon completion, candidates will receive job offer from the participant companies. As a supporter of the 2nd Tech Pro Full Stack Bootcamp DataScouting has these job openings:
"DataScouting stands by TechPro Academy as a sponsor and a supporting company, believing in the power of talented people who want to evolve through reskilling / upskilling. This support guarantees the scalability and prosperity of the IT industry through learning and growth. For us, the key is not to recruit for roles, but rather for potential. We are looking for people with a passion for self-improvement and continuous learning," says Tom Avramis, Founder and Managing Partner at DataScouting.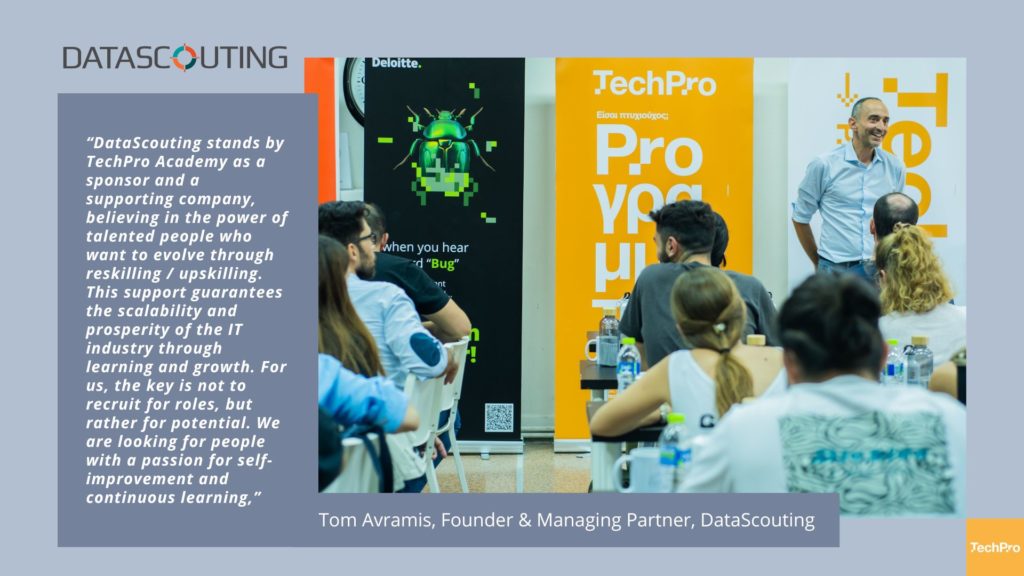 We believe in talent and that is why we are supporting several recruitment events.