We are happy to be attending and supporting the FIBEP World Media Intelligence Congress 2023 as a sponsor. The FIBEP WMIC 2023 will be held from the 25th until the 27th of October, at the Shangri-La hotel in Singapore.
This year's theme is Future Proof Your Media Intelligence. As the world is facing so much uncertainty, the media intelligence industry and FIBEP members are charged with providing insights to clients to help provide clarity. During the 2023 FIBEP World Media Intelligence Congress there will be a variety of presentations, panel discussions, round table talks, and best practices shared. These conversations will focus on the issues that our industry is currently facing in order to move forward together.
Once again, we are proud to be a sponsor of the FIBEP World Media Intelligence Congress. We have been a loyal sponsor of all the FIBEP WMI Congresses since 2014 when we joined the association as a member. As a tech provider we offer FIBEP members sophisticated media intelligence software solutions to optimize their business workflow across TV, Radio, print, online and social media.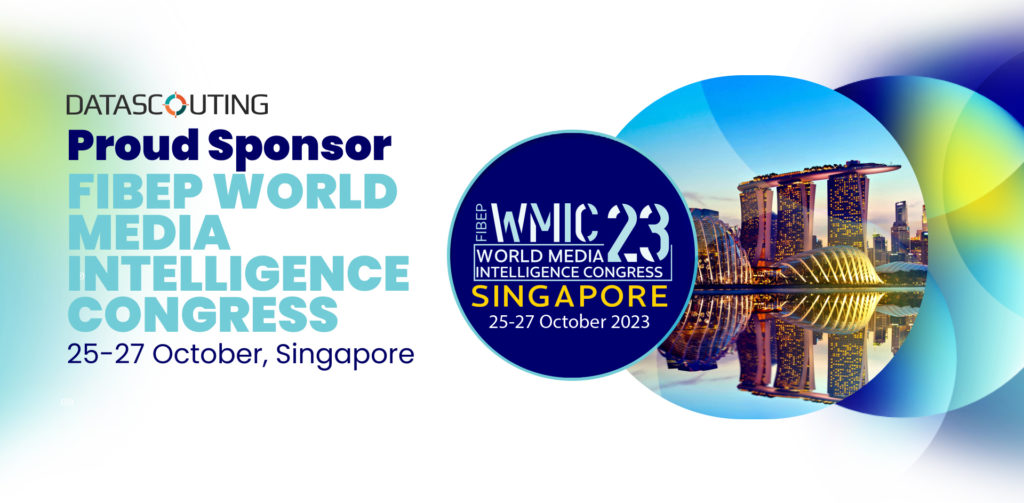 MIBE Knowledge Hub – Disruptive innovation
Artificial Intelligence is clearly disrupting the media intelligence business ecosystem (MIBE) and it is affecting the pillars of FIBEP (copyright, content, technology and innovation).
This session, scheduled for Friday, October 27, driven by the FIBEP MIBE Commission, will appeal to the creativity, innovative thinking and problem-solving skills of FIBEP members. Sophia Karakeva (DataScouting), Mazen Nahawi (CARMA), Thierry Cornez (Auxipress) and Simon Ernst-Sunne (Opoint) will outline how the media intelligence industry will be transformed and how FIBEP and its members will future-proof the future of their organizations. The session will also include working groups with FIBEP members to discuss ideas for innovation through collaboration.
Sophia will approach the topic from the perspective of academia and R&D and how universities and FIBEP can work together in order to future-proof innovation for the industry.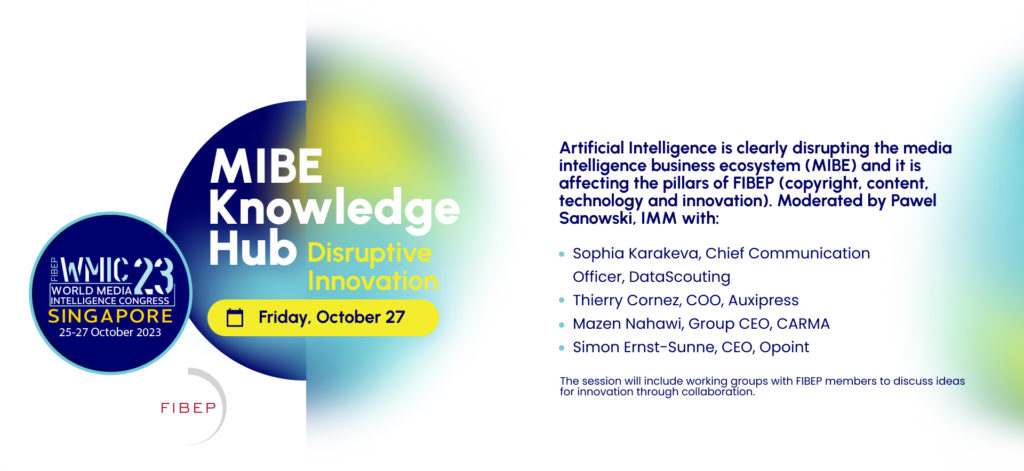 MediaScouting Core: a dashboard built for you
As an exhibitor at the FIBEP World Media Intelligence Congress, at the Shangri-La Singapore hotel, we will exhibit from Wednesday, October 25 until Friday, October 27, our media intelligence software solutions, including our Dashboard, the MediaScouting Core.
MediaScouting Core is a robust, white labeled delivery platform that aggregates content from broadcast, print, online and social media and includes analytics functionalities based on Machine Learning. A powerful and dynamic dashboard to provide your clients a real-time understanding of their media intelligence ecosystem while keeping all your data secure and safe in your own cloud or on-premise infrastructure.
Comprehensive monitoring: ingest any amount of data from print, broadcast (TV and Radio), online news and social media with unlimited archiving capabilities.
Integration of conversational agents (such as ChatGpt or other LLMs) for natural language querying and analysis.
Audio processing: automatic speech recognition, advertisement and speaker identification.
Text analytics: machine translation, sentiment analysis, summarization, entity recognition.
Data augmentation: logo and face recognition, digital on-screen graphic recognition.
Visualizations: drill down to information using interactive content visualization, facets and easy-to-read interactive charts.
Analytics & Reporting: integrate ratings, create and use your own metrics for analysis and reporting in multiple formats.
Smart Query System: smart search, tagging, and curation functionalities.
Alerts: create and schedule customizable automated email reports and alerts that match user specifications. Share via RSS, messenger, WhatsApp or any other integrations.
AI Modules: use any of our AI modules to enrich your content.
Seamless integration: can be integrated with any content provider or your current production workflow.
Trusted by MMOs, PR agencies, government bodies, organizations.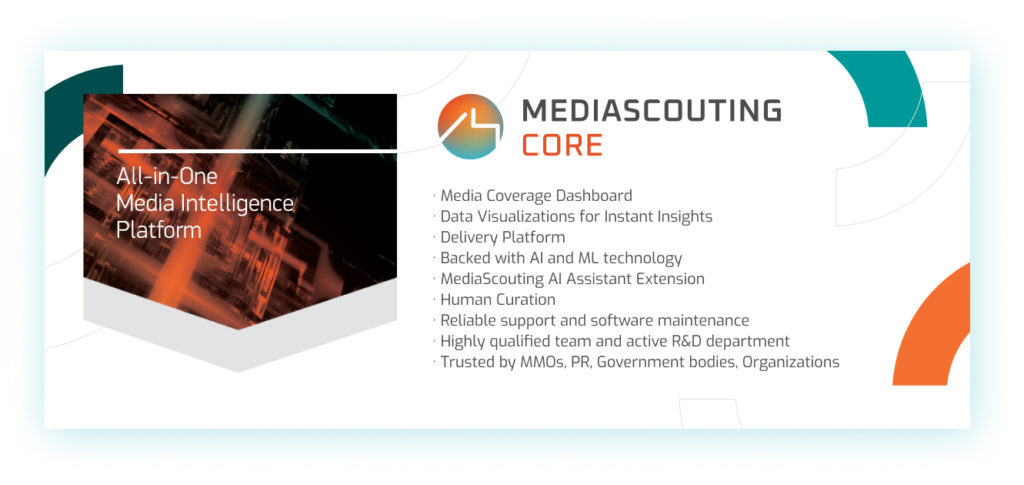 Visit our booth and meet our team. Sophia Karakeva (CCO), Nikolas Mavropoulos (Sr. Software Engineer) and Ioakeim James Theologou (Software Engineer) will be at the Shangri-La Singapore from Tuesday, 24 October until Friday, 27 October, looking forward to connecting with you.
Not attending the FIBEP WMIC 2023 but still interested in our media intelligence software solutions, send us an email to schedule a call.
About DataScouting
DataScouting is a service provider and software developer for Information and Communication Technologies (ICT), specialized in developing innovative solutions for media monitors, PR agencies, publishers, broadcasters, brand owners, and market analysis specialists.
Our platforms minimize time and effort needed to search and find actionable information in broadcast, online, social media, and print media. Using technologies such as Optical Character Recognition, Natural Language Processing, Automatic Speech Recognition, Logo Detection, Facial Recognition, and Data Mining, DataScouting's platforms automatically augment textual and audiovisual streams, helping our clients and partners to manage and easily identify content of interest.
Recently we developed a platform for graphic designers. As a member of the Innovative Design Cluster, our team has developed Vanessa, an AI-assisted platform that helps graphic designers to validate the authenticity and creativity of the logos and trademarks they design through a database and measure their creatives against other with metrics.