Media monitoring and measuring news has transitioned from a nice-to-have to a must-have in public relations and marketing. Media monitoring and measurement helps organizations manage corporate and brand reputation, collect competitive intelligence, conduct market research, and manage communications crises, among other benefits.
Many companies and government organizations outsource media monitoring and receive daily alerts on new media mentions from their service. However, selecting the best technology partner and the right tool can be challenging. Without a robust media intelligence platform and a well-designed dashboard, monitoring and analyzing the huge number of media data can be overwhelming.
MediaScoutign Core 
Our in-house MediaScouting Core  is a robust, white labeled delivery platform that aggregates online, broadcast, print and social media content. Visualize your data, create reports and alerts so that your clients can make smarter, actionable decisions. Provide to your clients a real-time understanding of their media intelligence ecosystem while keeping all your data secure and safe in your own cloud or on-premise infrastructure. Use any data sources that you prefer, or choose our partners or DataScouting's technology infrastructure to aggregate all the data you need. Use our AI augmentations to make your data smarter.
Comprehensive monitoring: Our dashboard displays data from print, broadcast (TV and Radio), online news and social media in a single delivery platform. View trending themes, top sources, content stream, and sentiment.
Scale: Our dashboard can scale to process millions of data items daily.
Platform integration: Ingest any content from any source of your choice.
Visualizations: Our dashboard makes it easy to visualize and understand large volumes of information by displaying it in easy-to-read interactive charts.
Analytics and reporting: Integrate data from rating agencies, create and use your own metrics for analysis and reporting.
Smart query system: Use powerful and interactive keyword filters to eliminate irrelevant content and ensure the most accurate search results possible.
AI modules: Use any of our AI modules to enrich your content.
Alerts: Schedule customizable automated email reports and alerts that match user specifications.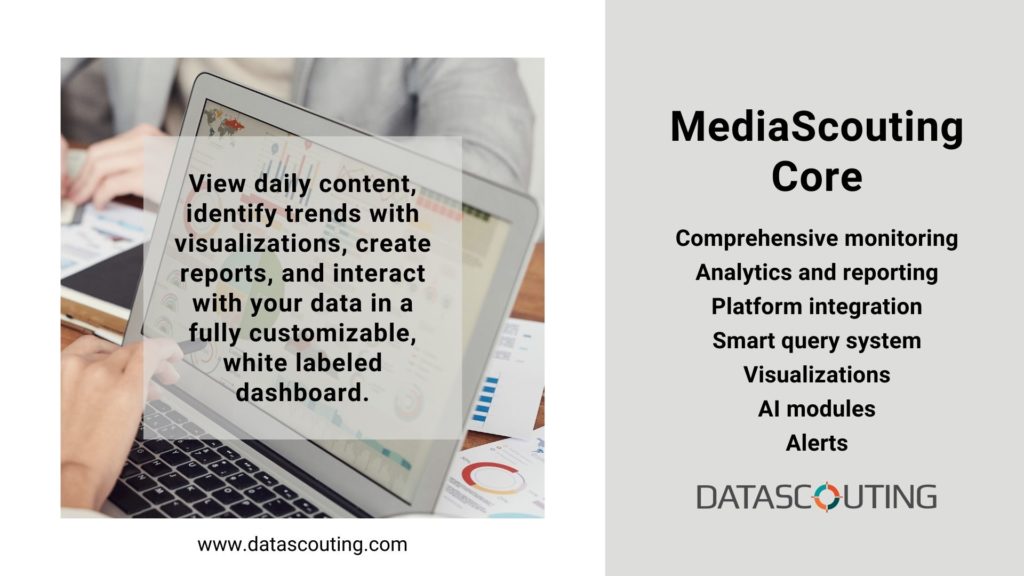 A dashboard built for you
With our centralized media intelligence dashboard, you can rest assure: it is organized, enriched, intuitive, and it has been designed for ease of use:
White label portal: flexible, customizable, multi-way distribution via our white label portal to reflect and promote your brand.
Intuitive and flexible design: an intuitive and flexible design makes it easy for users to master the dashboard and learn how to use it. Users can easily identify the stories that are of interest to them, choose the terms they want to search, the metrics they want to use, the charts and graphs to display, and other dashboard features.
Open architecture: Use APIs or direct access to database/filesystem to interact with your content.
Deployment: Cloud, on-premise.
Cost: comprehensive packages with flat pricing irrespective of the number of end customers.
Support: Choose between 8/5 or 24/7.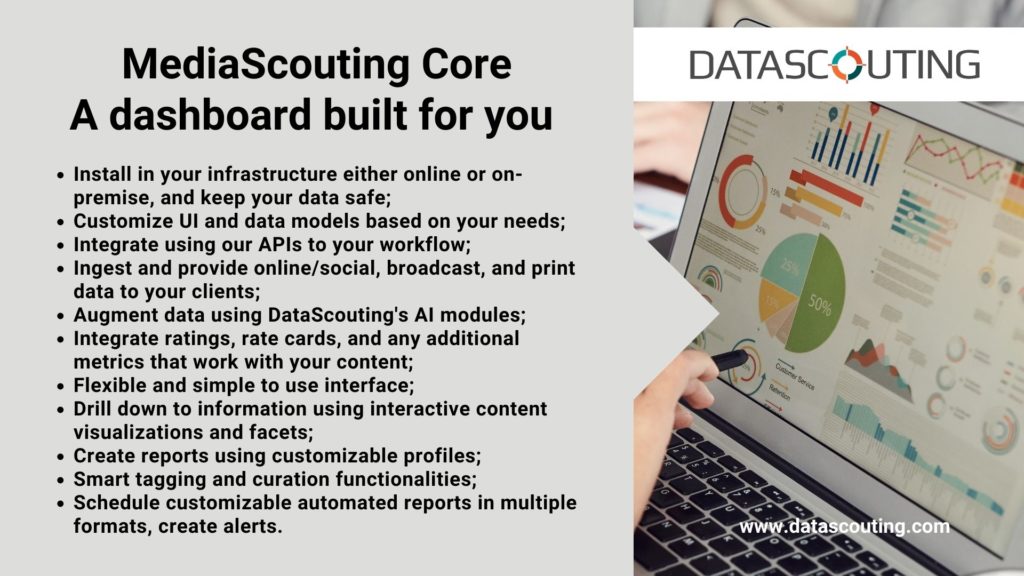 To gain a deeper understanding of how our powerful dashboard actually works, just click here and sign up for a free demo. Check out all our media monitoring software solutions: