By Eva Katrinaki, Library Information Systems Officer, DataScouting
EuropeanaTech 2023 –  Explore, Engage, Experience: cultural heritage in the data space and beyond
The EuropeanaTech 2023 conference intended for all tech-savvy professionals, developers, scholars, and educators globally who work in and around digital cultural heritage. It provided opportunities to connect, learn from, and collaborate with colleagues, as well as to become a part of a community that supports Tech in culture, and explore the issues and prospective that themes such as AI and 3D bring to the industry. EuropeanaTech 2023 was co-organized by the EuropeanaTech community, and the Europeana Network Association's community of R&D experts. The fourth EuropeanaTech conference revitalized and continued the series following previous successful editions in Vienna, Paris, and Rotterdam. It was mostly an on-site event, with some online possibilities.
The recently concluded EuropeanaTech Conference held in The Hague from 10 – 12 October 2023 was a convergence of more than 1100 brilliant minds and innovative ideas in the field of technology and cultural heritage. With more than 55 engaging presentations and 95 speakers from all over the globe, insightful discussions, and hands-on workshops, the conference provided a platform for all of us to explore the intersection of technology and cultural heritage.
Here are my five key takeaways from this enriching event:
1. Embracing AI and Machine Learning:
One of the prominent themes of the conference was the significant role Artificial Intelligence (AI) and Machine Learning (ML) play in the preservation and accessibility of cultural heritage. Experts showcased how these technologies are being employed to digitize and catalog historical artifacts, making them accessible to a global audience. Machine Learning algorithms are enhancing the efficiency of data processing, enabling cultural institutions to manage vast archives with precision and speed.
2. Interactive Digital Experiences:
Interactive digital experiences emerged as a focal point, transforming the way audiences engage with cultural heritage. Presenters demonstrated cutting-edge virtual reality (VR) and augmented reality (AR) applications that allow users to explore museums, historical sites, and artworks from the comfort of their homes. The Preserving Acoustic Heritage Workshop was a top pick for me because these immersive experiences not only enhance accessibility but also provide a deeper understanding of cultural artifacts, fostering a sense of connection with the past.
3. Open Data and Collaboration:
The conference highlighted the importance of open data initiatives and collaborative efforts within the cultural heritage sector. Open data promotes transparency and facilitates the exchange of knowledge and resources between institutions. Speakers emphasized the need for standardized metadata, open-access platforms, and collaborative projects, enabling cultural heritage professionals to work together seamlessly and enrich the global cultural landscape.
4. Ethical Considerations in Digital Preservation:
As technology advances, ethical considerations in digital preservation have become paramount. Discussions revolved around the challenges of preserving intangible cultural heritage, ensuring inclusivity, and respecting cultural sensitivities. Experts emphasized the importance of ethical frameworks and guidelines to navigate these complexities, ensuring that technological advancements are aligned with cultural values and community perspectives.
5. Community Engagement and Education:
Empowering communities and fostering educational initiatives were key takeaways from the conference. Cultural heritage projects are increasingly focusing on community engagement, involving local stakeholders in the preservation and interpretation of their heritage. Additionally, educational programs are being developed to enhance digital literacy and educate the public about the significance of cultural heritage preservation. By involving communities and promoting education, cultural institutions can create a sustainable impact and ensure the preservation of heritage for future generations.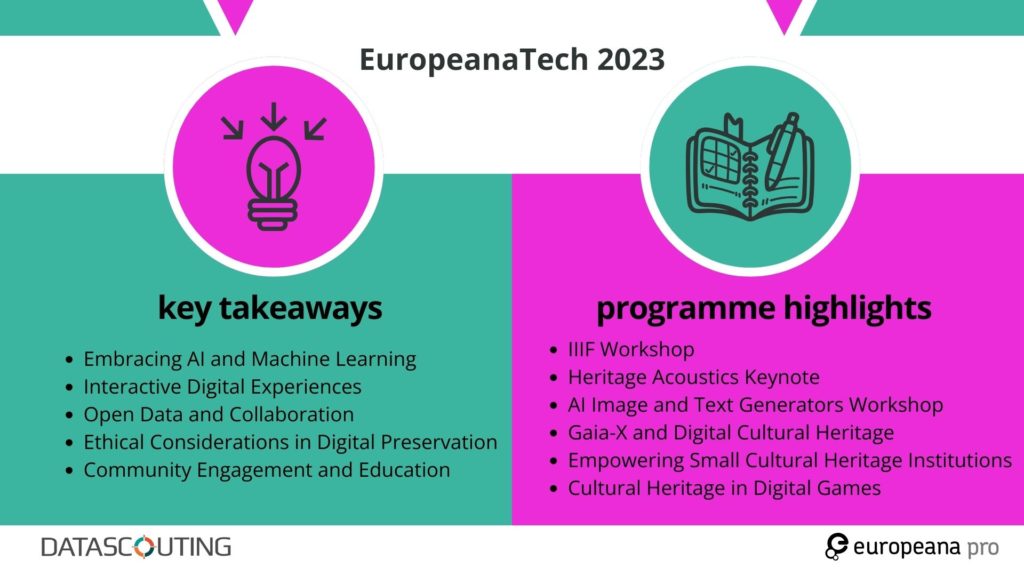 The EuropeanaTech Conference 2023 was a vibrant showcase of innovative presentations, workshops, and discussions, emphasizing the fusion of technology and cultural heritage. Here are the key highlights and sessions that captured my personal attention:
1. IIIF Workshop:
An in-person workshop on developing shared tools centered around the International Image Interoperability Framework (IIIF). IIIF's progress, discussed by technical community manager Glen Robson, highlighted its vital role in enhancing online collection sharing.
2. Heritage Acoustics Keynote:
Brian Katz's hybrid keynote delved into the interdisciplinary field of heritage acoustics, shedding light on its importance in understanding historic spaces' sounds. This novel approach intrigued attendees, broadening their awareness of acoustics research.
3. AI Image and Text Generators Workshop:
A hands-on, in-person workshop exploring AI-driven image and text generation. This session piqued interest due to its potential to revolutionize content creation and design, offering valuable insights into the world of artificial intelligence.
4. Gaia-X and Digital Cultural Heritage:
A hybrid session focusing on Gaia-X, exploring its role in the intersection of technology, data, and cultural heritage. Attendees were keen to understand how Gaia-X facilitates the transition from human-centric approaches to machine learning in digital cultural heritage contexts.
5. Empowering Small Cultural Heritage Institutions:
Two engaging sessions tackled the visibility challenges faced by small cultural heritage institutions. The "Community Collections" in-person session discussed making local heritage digitally visible, while the hybrid panel "From Shelf to Europeana" explored ways to support these institutions in digitizing and publishing their collections on Europeana.eu.
6. Cultural Heritage in Digital Games:
An online session delved into the potential and challenges of experiencing cultural heritage through digital games, particularly focusing on historical accuracy. This session encouraged thoughtful reflection on using games as a means for engaging with cultural heritage.
The conference served as a testament to the ongoing advancements in technology, emphasizing the need for inclusivity, collaboration, and ethical considerations in the realm of cultural heritage. EuropeanaTech Conference 2023 not only showcased the current state of the art but also inspired attendees to continue exploring innovative ways to preserve and share our rich cultural heritage in the digital age.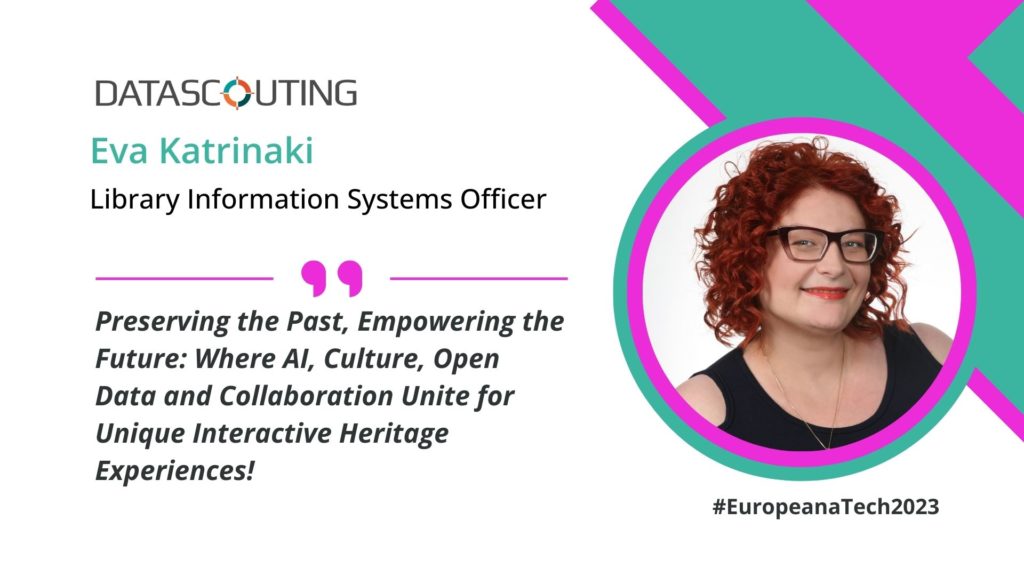 About DataScouting
Since 2015, DataScouting has a dedicated department for Libraries, Archives and Museums. Following the very latest technologies and implementing innovative solutions DataScouting provides Libraries and Information Centers, Archives and Museums and other cultural heritage organizations with tools to empower both staff and users.
Our solutions and services  help organizations and institutions to make their collections accessible to the world and preserve the cultural heritage through interoperability with cultural content aggregators, such as Europeana and SearchCulture. The tools we develop, enrich information and digital content, using optical character recognition, AR & VR technologies, unified search capabilities and enhanced viewing software.
You can check some of the projects that our team has delivered in Greece and abroad here.