We went, we listened, we learned
Like every year, the AMEC International Summit on Measurement does not cease to amaze us. This year's theme "Making Metrics Matter: Taking Measurement Mainstream" highlighted why metrics are imperative to success and how to make measurement relevant to any company or organization.  Held in London (15-16, June), the 8th AMEC International Summit on Measurement scored the highest ever number of attendees and speakers.
Here are the three takeaways that made the AMEC Summit so very special to us:
Love at first sight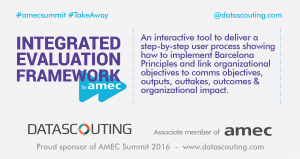 A panel of experts – Richard Bagnall of Prime Research UK, Prof. Jim Macnamara, and Giles Peddy of Lewis PR – unveiled AMEC's new Integrated Evaluation Framework. It is an easy-to-use interactive tool with a step-by-step process to help you identify the right metrics you should apply for each stage of your communication strategy and shows you how to measure across channels, how to link organizations objectives to communication objectives and how to measure what really matters (v what is easy to count). Simply said, it "operationalises" a new process that shows how to best implement the Barcelona Principles 2.0. With PR and communication professionals expected to work across all forms of media – from broadcast, to print, to online and social media – the struggle to accurately measure their work has never been more difficult. Find out more.
Media Intelligence is moving from discovery to interpretation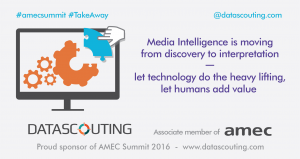 Although the media intelligence industry is in a strong position it needs to further consolidate with other businesses and regions to keep up with technological and behavioral changes worldwide. In the Summit CEO Masterclass returns special session, Jeremy Thompson, AMEC Chairman and EMEA MD at Cision, listed five trends the industry will experience as it moves towards "much more integrated solutions":
Increased demands for real-time access to contextual insight
Multimedia storytelling becomes more important
Micro-moments of content engagement become more significant
Digital influencers will grow in importance
Predictive analytics will drive content strategies.
Don't underestimate education!
The New World media Insights study showed a strong call from AMEC's members for AMEC to continue its international education role to underpin industry expansion. A key survey finding was that 65% of members think it was likely this year will see measurement becoming a fundamental part of every PR programme. The AMEC Measurement Month is a global programme of activities to spotlight attention on the importance of PR measurement. "If we do not educate our clients they are going to die and if they die we are going to die," said Francois van Dyk, Operations Manager at Ornico South Africa at Workshop B-Measurement Month Unplugged. DataScouting will support the AMEC Measurement Month this year as well. Last year, we held a webinar entitled "Measuring the value of TV sponsorships". Start planning now as the first events have already been announced! Find out more.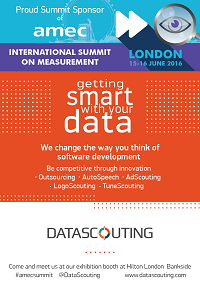 Last but not least, DataScouting was pleased to be a Summit sponsor and an exhibitor, giving our team the opportunity to showcase our Media Monitoring software solutions (for print and broadcast) with innovative features for News Insight, Ad Monitoring, Logo Detection and Music Tracking.