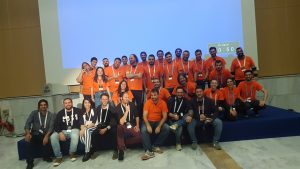 The 2nd Voxxed Thessaloniki took place from 23 to 25 November at the Ioannis Vellidis Congress Centre. Our CIO, Mr Stavros Doropoulos was there as a member of the program committee on Cloud & Data Track.
Voxxed Thessaloniki is the most diverse and high-quality software development conference that brings together well-known speakers, core developers of popular open source technologies and professionals willing to share their knowledge and experiences.
More than 500 attendees from 20 different countries from all over the world had the opportunity to listen and learn from distinguished experts and get informed on the latest technological advancements and software development methodologies. Workshops and sessions added to the already rich conference schedule.