How relevant is media intelligence in times of war, disinformation, and human rights abuses and how can OSINT help? With a point of view from outside the media intelligence industry, Martin puts into question the relevance of media monitoring services for the non-profit sector, using the example of an NGO currently on the frontlines of supporting Ukraine's fight for freedom.
Martin Mycielski is a Polish-Belgian activist and former journalist, currently overseeing public affairs, advocacy and communications at the Open Dialogue Foundation.
Q: Can you please tell us a few words about you and Open Dialogue Foundation?
Martin: The Open Dialogue Foundation is a relatively small human rights & democracy watchdog NGO with quite a bit of notable successes and achievements, which made it into an enemy of several post-Soviet authoritarian regimes and – more recently – their illiberal counterparts within the EU. Since 2010 we've been supporting democratic reforms in countries such as Ukraine, Kazakhstan or Moldova (the last one being our most notable win), successfully defending hundreds of victims of human rights abuses and since 2017 relentlessly protecting the rule of law in Poland.
Since Russia's invasion of Ukraine our full focus has been devoted to supporting the refugees fleeing to Poland and delivering humanitarian aid to the brave Ukrainians on the frontlines. To the best of our knowledge, we are the only non-profit providing Ukraine's defenders with military-grade protective equipment like bulletproof vests, ballistic helmets, night-vision goggles or reconnaissance drones, having until now delivered over 65.000 pieces of various gear, all of it funded by generous donors via our support page. I myself oversee most of these operations, with a special focus on the humanitarian aid deliveries, as well as supervise communications and public relations.
Q: Why is media monitoring an important service for you and how do you process the information you receive?
Martin: The way we use media monitoring is likely different from what commercial entities (and perhaps bigger NGOs) do. In the vast majority of our work – like defending political dissidents or advocating for reforms – we rely on information that's either not available publicly, is too specific or is unreliable when filtered through the media. For our work to be effective we need to rely on direct sources of information and be able to verify it.
Let's take for example campaigning to free a political prisoner somewhere in Kazakhstan. Unless it's a well-known public figure, which most peaceful protesters are not, there won't be any information on that specific person – their detainment or the history of their activities and persecution – available publicly. We will have learned of the incident from our sources on the ground, then conduct research through local NGOs and activists, consult lawyers and then conduct an international advocacy campaign (e.g., by approaching EU lawmakers, national parliaments and governments) to pressure the Kazakhstani regime to release that person.
Nowhere in that process media monitoring is a tool that we would require. Most of the media mentions that would be relevant to us are actually only there because we put them there as part of our advocacy and media outreach. The moment we would use it is after such a campaign is finished and we wish to measure its impact, perhaps learn for the future, or provide a press review for some stakeholders who were involved in it. But at this point we'd already know if it was successful or not and we'd likely already also know its reach, as we monitor social media activity on a topic of interest on a constant basis. Apart from monitoring our Twitter, Facebook or Instagram notifications, we run custom keyword searches or involve a consulting company with specialized social network analysis tools to map the spread of a specific topic (like we did after our #InterpolNotForPutin campaign).
This is all not to say media monitoring isn't important to us, it's just not a tool we use to conduct our work, but rather to get some valuable, additional feedback after it's done, and perhaps see in what areas we could improve our outreach, or which media outlets are less sympathetic to our work than we thought.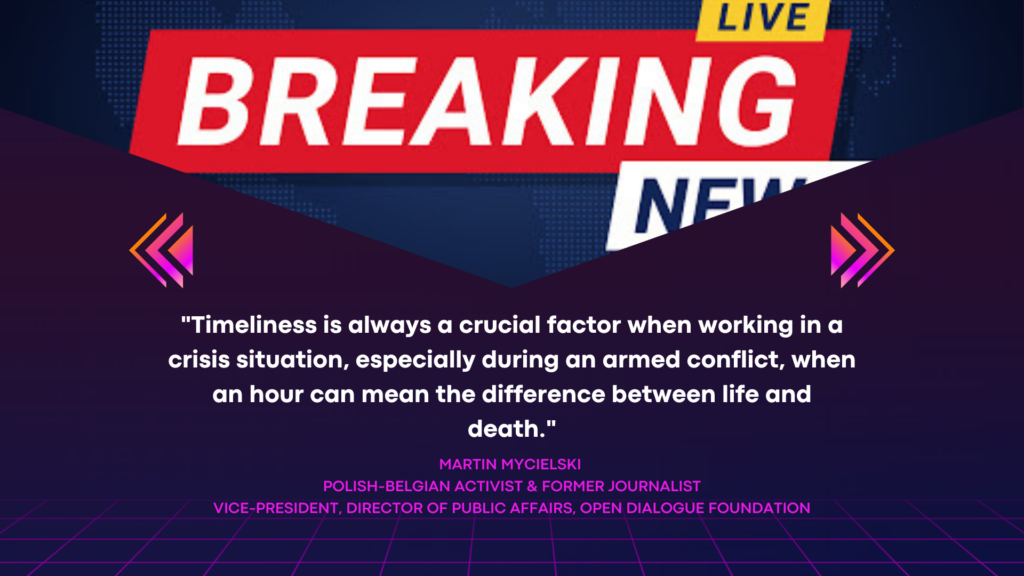 Q: What challenges are you encountering with your information inflow today in times of war?
Martin: First of all, we're overloaded with information that isn't necessarily relevant to our specific work. It's easy to get lost in all the news, as it's all often interesting and adds knowledge, which might come in handy, but if we were to digest all of it, we'd never be able to focus on what we need to do. Hence, apart from a quick morning update on the current situation on the front, or the direction the conflict is heading, we disregard the news during the day unless we need to check something specific, e.g., we're sending a humanitarian aid shipment to a specific region and we need to check if there's a Russian offence taking place there at the moment.
Secondly, very often the information that flows from public sources simply comes too late. Timeliness is always a crucial factor when working in a crisis situation, especially during an armed conflict, when an hour can mean the difference between life and death. Hence, we prefer to get our information directly from trusted sources, like people on the ground via Telegram or perhaps trusted social media accounts, rather than from news outlets, which would also get it from those sources but often later than we would.
Lastly, of course, there's disinformation and misinformation. We all know what the Russian propaganda machine is capable of. Even now, after having blocked RT and Sputnik in the EU, there are lots of far-right or otherwise Kremlin-friendly outlets and pseudo-journalists (see Hungary, Italy or the Polish far-right) who are more than happy to jump at the occasion to reuse a piece of fake news as long as it serves their narrative. Just a few days ago we were attacked by a potential donor from Ukraine after he stumbled upon an article about there supposedly being an investigation into ODF conducted by the Ukrainian security services, which accuse us of treason – what he didn't know was that just days later the SBU itself debunked this information as completely fake. Still, that second part of the story didn't fit the political sympathies of that specific media outlet.
Q: As the war in Ukraine evolves, so do the disinformation tactics and war narratives. How do you find and debunk falsehoods, disinformation, deepfakes or fake/staged news?
Martin: Luckily, for the reasons mentioned earlier, we're not that susceptible to it. On one hand we hardly ever rely just on public information to conduct our work, on the other we've been working alongside disinformation for such a long time that we've just become accustomed to it and can often spot it a mile away. I myself have worked strictly on disinformation for over a year (in the EU DisinfoLab), so critical thinking, verification of sources and triple-checking everything before believing it has become part of my nature. Having worked for 2 years as a correspondent for the leading Polish daily has only sharpened those instincts.
In my 3,5 years of work at ODF I recall only one situation when we were fooled by some fake news and acted on it – it was information published by a journalist on Twitter that we heavily amplified, which turned out to be false and landed us in hot water. Of course, we had to backtrack it and apologize publicly. But it shows that sometimes even proper journalists can't be trusted to conduct their due diligence.
Q: Who do you believe makes the news today? What is the first thing you pay attention to when you are collecting and processing information you need?
Martin: Uniqueness. Most of the news is just rehashed, served in one form or another by all the outlets, pundits and social media commentators. What catches my attention is either something I haven't seen before (so usually being lucky enough to spot it while it's still emerging in some social media niche or on a Telegram channel), or an interpretation of it which is different than everywhere else. Hence, I'd often follow specific news outlets and social media accounts (not necessarily of journalists, often experts or activists) whom I trust to be the first to report on something or to have unique insights that most others wouldn't have.
Q: It is often said that truth is the first casualty in any war. How open-source intelligence can help the public to combat misinformation?
Martin: I'm personally of the opinion that every major news outlet should employ OSINT teams and technology and train their investigative journalists in those techniques, not just have them rely on citizen-led groups to do the work for them. But we all know the problem with the media these days – cutting costs, especially on journalistic standards, and pivoting towards reprints and click-bait.
Q: How would you describe the best media monitoring service for you?  
Martin: It would be one which knows what we need without us having to specify what we need to them. One tailored enough to monitor what we do and predict what we might find useful. One that would monitor our Twitter to see that we're working on a report on the political abuses of the public prosecution service in Poland and proactively send us a set of cases from the last 5 years that we can include. So, one that doesn't exist, and if it did it would cost us our annual budget.
About Martin Mycielski
Martin Mycielski is a Polish-Belgian activist and former journalist. Following a short-lived political career in the early 2000s he moved to Brussels, where he worked in the European Parliament, the Polish Permanent Representation organising Poland's first EU Council presidency, as well as in an American law firm and the World Federation of Advertisers. He founded the international Committee for the Defence of Democracy (KOD International) and co-launched the EU DisinfoLab, the first European NGO committed strictly to countering disinformation. He then served for 2 years as the Brussels correspondent for the leading Polish daily, Gazeta Wyborcza.
At the Open Dialogue Foundation, a Polish-Ukrainian human rights watchdog, Martin oversees public affairs, advocacy and communications. The Foundation is highly active in protecting human rights in the post-Soviet area and defending EU values within Europe (most notably Poland, where both ODF and Martin are considered "enemies of the state" by the current ruling coalition).
Since Russia invaded Ukraine on February 24th, the Foundation has been committed to aiding refugees fleeing from Ukraine and delivering humanitarian aid to those who stayed to fight, focusing – as the only major EU NGO – on providing military-grade protective equipment such as bulletproof vests & ballistic helmets, as well as other defensive military gear.
Privately, Martin is an avid political commentator, writing for publications such as EU Observer, Politico Europe, EurActiv and The Next Web, or commenting on current events for stations like BBC World News, Euronews or Al Jazeera. He is the author of the "Survival Guide to Authoritarianism", a pamphlet based on the Polish experience which reached 3 million people around the world within a month and served as the basis for a 15-part web series. Last but not least, he is a member of the Advisory Council of the Polish Women's Strike and is always looking for new causes to get involved in.
You can stay connected with Martin via email or follow him on Twitter and LinkedIn. Furthermore, you can also support ODF's work for Ukraine here.