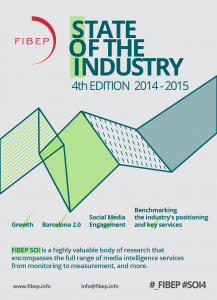 FIBEP, the world's media intelligence federation, has released the results of the 4th edition of the annual State of the Industry Survey.
The 2014-2015 survey has many key findings that show a vibrant, growing and rapidly changing industry. Among the key takeaways in this year's report are:
A vibrant industry: We can see that again, Media Intelligence continues to be a strong global industry throughout the world.
Optimism for 2016: 67% of respondents felt that the industry is on a growth curve. The sources of that growth come from a wide variety of services, but not from print media monitoring.
Monitoring dominates: Media monitoring (print, web, broadcast) represents around 60% of the total revenue. Social Media Monitoring represents 14% but grew fast compared to the previous year (+ 6 % overall).
Service growth: New technologies (SaaS), Social media and measurement services still remain the new growth areas for media monitors.
FIBEP members can access the report via the member section on the FIBEP website, non members can contact info@fibep.info
As a FIBEP member DataScouting has been participating in the SOI since 2014.
About FIBEP

FIBEP is the world's media intelligence federation with over 120 corporate members in over 60 countries. The federation and its members are focused on providing globally-driven, enterprise-scale solutions in the fields of PR distribution, journalist databases, media monitoring, media analysis, as well as consulting services and SaaS platforms.
The federation was founded in 1953 in Paris and now hosts a broad range of activities including the FIBEP World Media Intelligence Congress, several annual workshops, senior-networking sessions, youth-development programs and a variety of high-impact research studies.
The organization is currently led by its President, Alexis Donot, CEO L'Argus de la Presse and its Secretary General, Florian Laszlo, CEO of »OBSERVER« GmbH.