We will be attending the FIBEP Tech Day 2023, taking place on the 21st of April in Rome.
Tom Avramis and Stavros Vologiannidis will be in Rome looking forward to meeting with fellow members, connecting and discussing our media intelligence software solutions. Moreover, Stavros is a speaker and will talk about "Unlocking the secrets of Language using LLMs: link analysis and summarization: Client case". In this presentation, Stavros will focus on the outcomes of a proof-of-concept project for a government entity regarding link analysis and summarization focusing on:
the importance of data normalization and retention;
newly developed LLMs and challenges solved;
integration of LLMs and ChatGPT into DataScouting's MediaScouting platforms;
adapting the business value proposition to media intelligence companies and other organizations.
FIBEP Tech Day is an annual one-day event that FIBEP organizes exclusively for its members. It is an event primarily designed for CTOs, CIOs, COOs, and professionals related to technology, to discuss all the latest technological innovations and developments in the media intelligence industry. It allows technical decision makers to hear directly from technical providers on their new developments. The event this year is sponsored by PerVoice.
"We are happy to be part of the constantly growing media intelligence industry, which is increasingly becoming reliant on technology for the collection, monitoring, listening, sorting and analysis of relevant data to provide actionable information from a diverse media landscape. FIBEP Tech Day has become a must-attend for us and we were proud to be the Headline Sponsor of the FIBEP Spring Summit, that took place in Athens on 28-29 March, 2022.  We look forward to attending this year's Tech Day in Rome, being sponsored and hosted by our longtime partner, PerVoice", says Stavros Vologiannidis, Co-Founder of DataScouting.
DataScouting is a FIBEP member and a proud sponsor of FIBEP events since 2014. As a software company we are happy to be partners with FIBEP members offering media intelligence software solutions.
Our platforms minimize time and effort needed to search and find actionable information in broadcast, online, social media, and print media. Using text analytics and automatic classification, speech and optical character recognition, advertisement, logo and face recognition, we help media monitoring companies and organizations streamline their workflow, create a database of media intelligence information, and share content.
Happy to discuss in Rome our MediaScouting Core, a robust, white labeled delivery platform that aggregates online, broadcast, print and social media content. Visualize your data, create reports and alerts so that your clients can make smarter, actionable decisions via our robust media intelligence dashboard.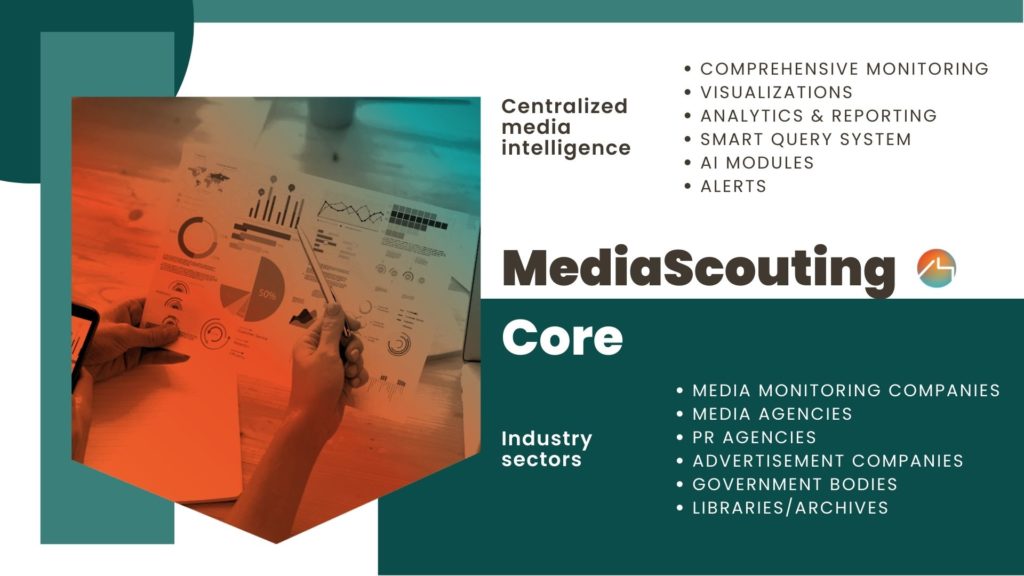 Check out all our media intelligence software solutions: