FIBEP has announced the new areas of activities undertaken by Vice Presidents and members of the Board of Directors. Sophia Karakeva, the Chief Communications Officet at DataScouting, has undertaken the Tech Portfolio.
About the FIBEP Tech Portfolio
FIBEP is an association of corporate members who own relevant data and have extensive knowledge within qualification and categorization of news media data.
The FIBEP Tech Portfolio falls within the Media Intelligence Business Ecosystem, and especially it addresses two of the MIBE goals:
Driving new collaborations to address rising social and contextual challenges; and
Build industry reputation for the social and economic dimensions.
And it corresponds to three out of the four basic pillars:
Media content
Technology; and
Research and standards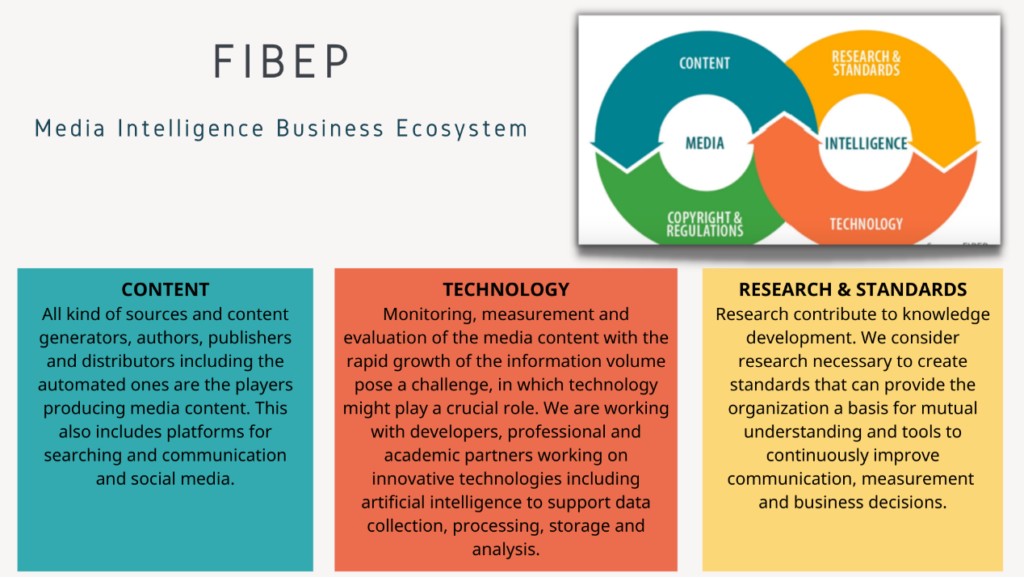 About the Technical Advisory Commission
The Tech Advisory Commission (TAC) is a team of FIBEP members working together to monitor, explore and analyse the role of technology in the media intelligence business, now and in the future. TAC has eight members and it is chaired by Alessandro Cederle, Business Development for Europe, TVEyes.
There is no doubt that technology will become a core business function within organizations and according to the ICCO World PR Report for 2020-2021, investment in IT and technology is expected to grow over the next five years. This is an incredible opportunity.
We need to identify opportunities and threat in terms of new technologies and new content sources, establish a conversation with leading players in the digital environment, suggest the appropriate rules of engagement for all FIBEP members.
Objectives
Understand the role of technology in our industry, now and for the future. Organize this knowledge and make it accessible.
Establish a relationship and a conversation with technology experts and relevant players.
Map the offer. Identify different technologies, list the main vendors in each.
Enable technology dissemination through the definition and promotion of industry standards.
Key activities
Data Exchange: a content interchange standard built in a structured way to stream data in order to make interchange seamless.
Tech Members Directory: to enable FIBEP members to locate their tech partner for a particular solution they are offering. It will include a tech vocabulary to correct/fix misconceptions about certain tech terms used, specifically within the media intelligence industry.
Podcast: a new format aiming to promote FIBEP as the leading organization in the field of media intelligence and to keep FIBEP members and the general public informed with the latest of the media intelligence world, with focus on technology and new media.
Tech Observatory: The technology field is exploding with innovative tools, driven by the rapid development of AI, advanced analytics, machine learning, language technologies etc. The tech observatory will keep a close eye on what everything new that is coming and understand the implications, e.g., the metaverse.
Events: TAC will host 6 events though out the year (one every two months). The events will range from webinars with industry experts (FIBEP and non-FIBEP members), grab-a-bites and panels, all focusing on transformative technology (AI, advanced analytics, robotics etc.)
FIBEP is the world's media intelligence association with over 100 corporate members from more than 60 countries. The association and its members are focused on providing globally-driven, enterprise-scale solutions in the fields of media monitoring, media analysis, PR distribution, journalist databases, as well as consulting services and SaaS platforms.
DataScouting is a FIBEP member since 2014. As a tech provider we offer FIBEP members sophisticated media intelligence software solutions to optimize their business workflow across print, TV, Radio, online and social media. As a FIBEP member we are a proud sponsor of FIBEP Events, including the FIBEP Spring Summit and the FIBEP World Media Intelligence Congress. Sophia Karakeva has been a Vice President of FIBEP since 2015.