We are happy to be attending, once again, the FIBEP World Media Intelligence Congress 2021 that will be held virtually from the 2nd until the 4th of November.
This year's theme will be Present Challenges, Future Opportunities and Best Practices and the program will include a mix of keynote presentations, panel sessions, breakout sessions, best practices, a Super Networking Session, and networking. Topics will include, among others, tech-driven journalism, how to optimize media intelligence in your business, a discussion around future trusted sources, news consumption and attitudes, growth strategies and transformation tactics.

Happy Gold Sponsor of FIBEP WMIC 2021
We have been a sponsor of FIBEP World Media Intelligence Congress since 2014, and, as a Gold Sponsor, this year we are happy to be sponsoring the Keynote presentation on Tuesday, November 2nd, with Maria Ressa, CEO of Rappler and Nobel Peace Prize 2021 Recipient.
Ms Ressa will talk about Fighting for Facts: Critical for a Sustainable Future.  The session will be moderated by Sophia Karakeva, Chief Communications Officer of DataScouting.
Maria Ressa is a Philippino-American journalist and co-founder of the news site Rappler. She is well known for exposing corruption and misrule of the government of President Rodrigo Duterte and she has faced significant threats for her work. The Nobel Committee commended Maria for using freedom of expression to "expose abuse of power, use of violence and growing authoritarianism in her country, the Philippines".
"This shows that the Nobel Peace Prize committee realised that a world without facts means a world without truth and trust," she said.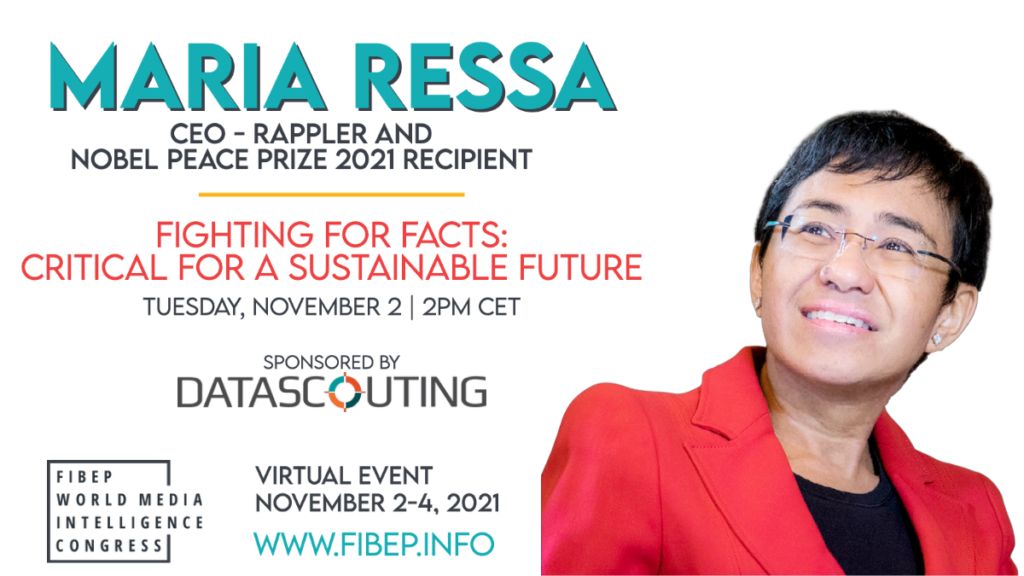 Disinformation, Media polarization and FinTech
Ms Sophia Karakeva, Chief Communications Officer at DataScouting, will be a panelist at the Breakout Session B: Disinformation as a Service – Do's and Don'ts, scheduled on Tuesday, November 2nd.
Disinformation comes in multiple types and forms and there are dozens of applications for disinformation and influence campaigns. And as defences against disinformation improve, disinformants innovate and steadily come up with new strategies for evading detection, including making the problem of increasing siloing of news consumption worse. Can media monitoring be a safelight in a polarized world? Are media monitoring companies the ones that should fight disinformation? Is technology the Jedi or is it on the dark side of the Force?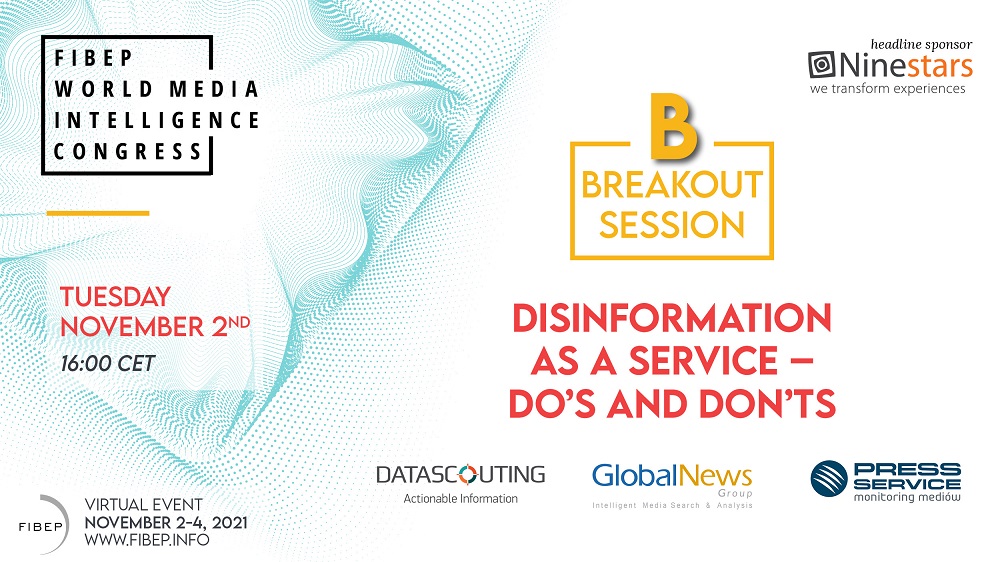 Mr Stavros Vologiannidis, Co-Founder of DataScouting, will present a fintech best practice about Providing High Quality Machine Readable and Human Interpretable Media Intelligence Data to Financial Traders. This is part of the Best Practices: Media Intelligence Technology, scheduled on Thursday, November 3rd.
One of the latest trends in automated portfolio management is using software agents aimed to maximize the expected profit by tuning the quantity, price and time to place an order. Those agents usually use only financial features in order to predict their next move. DataScouting uses its machine learning based media intelligence software solutions for print, broadcast and online/social media monitoring in order to provide machine understandable streams of media information including metrics, to optimize the agents' decisions for trading cryptocurrencies in real time.
Last but not least, Ms Sophia Karakeva will moderate the Keynote presentation on Wednesday, November 3rd, with Alexander Plaum, Innovation Manager at Deutsche Welle. The keynote presentation it titled: The Geek Shall Inherit – Tech-Driven Journalism for the 21st Century, and Alexander will talk about the evolution of journalism.
In the 2000s, journalism became digital. In the 2010s, it became mobile. The 2020s are likely to give it yet another boost – thanks to an increasingly versatile toolkit that features artificial intelligence (AI), extended reality (XR), the internet of things (IoT), and other innovative technologies. There's huge potential for reporters, storytellers, and media managers. All they need is the will to experiment and catch up on some "geek stuff", which could soon be the new normal.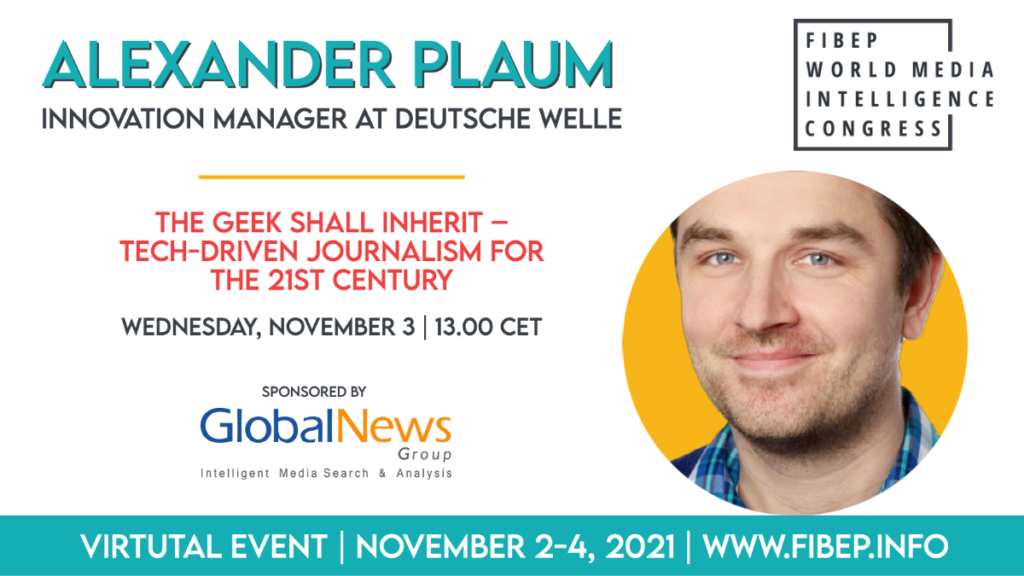 Smart Media Intelligence
DataScouting is a software company specialized in developing innovative solutions for media monitors, PR agencies, publishers, broadcasters, brand owners, and market analysis specialists.
Our platforms minimize time and effort needed to search and find actionable information in broadcast, online, social media, and print media. Using text analytics and automatic classification, speech and optical character recognition, advertisement, logo and face identification, we help media monitoring companies and organizations streamline their workflow, create a database of media intelligence information, and share content.
About MediaScouting Suite
A versatile broadcast, online, and print media intelligence platform developed to provide holistic solutions for media monitors, broadcasters, media agencies, governments and organizations.
Automatically enriches media content using AI.
Built for Cloud, can be installed On-Premise.
Why should you use the MediaScouting Suite
One shared intelligent media platform for all media:

Broadcast:Speech-to-Text, Ad Monitoring, Face/Logo Recognition.
Online & Social:News content crawlers, metadata extraction via NLP.
Print:OCR, Metadata, Clipping / Reviewing, Ad Monitoring.

Maintain effective cross-organization:keep teams organized and connected, from anywhere, anytime. Ideal for multi-location business.
Dashboard: multi-platform, multi-format content delivery.
And there is more we can talk about, so visit our virtual booth and let's discuss the right solution for you.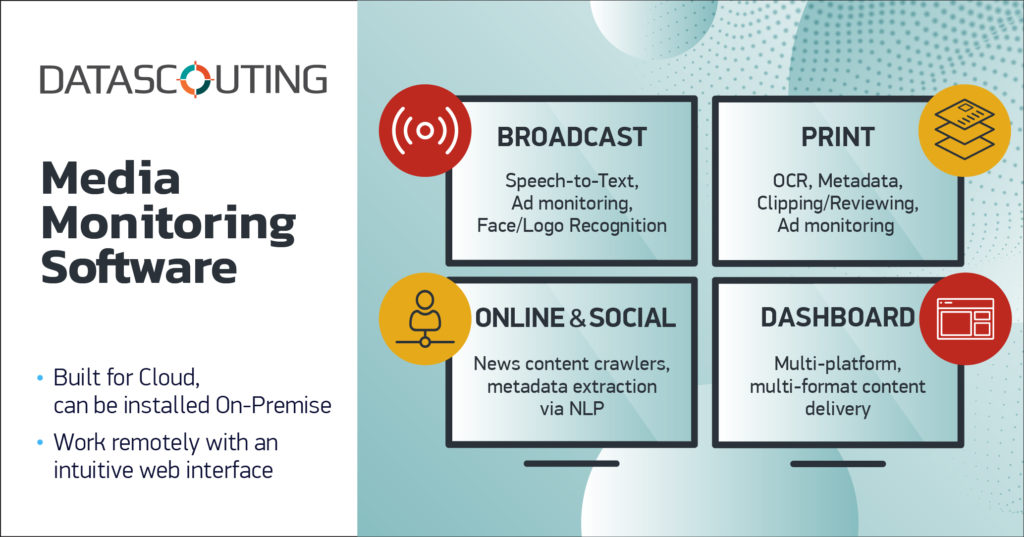 OR
USEFUL INFORMATION