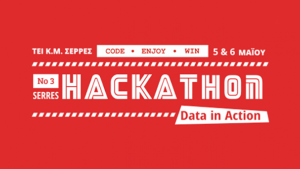 We are happy to be one of the sponsors of the 3rd Hackathon Serres that took place on the 5th and 6th of May. Hackathon 3.0 was organized by the Serres Tech community and the Postgraduate Program of the Mechanical Engineering Department of the Faculty of Applied Informatics, Technological Educational Institute of Central Macedonia (TEI Serres).
This year's theme was "Data in Action". More than 40 students, programmers and people who love technology and programming participated in the 2-day event aiming at creating open source applications for web, mobile devices and find solutions to existing problems with real data.
Alongside Hackathon, the organizers held a "Career Day " on the 4th of May, where undergraduate and postgraduate students of the Mechanical Engineering Department had the opportunity to meet the sponsoring companies and to discuss with them working opportunities as well as to listen to interesting presentations.
DataScouting was there with Mr Anastasios Avramis (Managing Director) and Mrs Sophia Karakeva (CMO). In his 10-minute long presentation, Mr Avramis talked about DataScouting's software solutions for media monitoring and outlined the opportunities to work for the company.