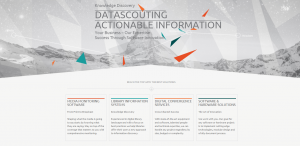 It is with great pleasure that we welcome you to come and explore our new company website. Aside from an updated look, we have created new menu items, which allow you to find any information you need about our company, solutions and portfolio.
The new website offers a much more engaging way to navigate through our solutions making it easier for you to better understand our wide range of capabilities in all our business areas. All you need to know about media monitoring software, library information systems, digital convergence services and software & hardware solutions through a fresh and modern appearance with a user-friendly browsing experience.
Meet our team to learn a little more about us. Search our projects to learn more on the impact of our work. Schedule a demo to discover the advantages of our solutions. Feel free to reach out to us on our 'contact us' page. Finally we have made the website mobile responsive so you can access it on any type of device.
Want to know more? Go ahead and explore our website.