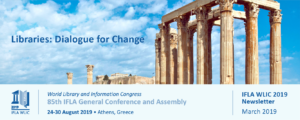 DataScouting will participate in the IFLA World Library and Information Congress. The 85th edition of the IFLA WLIC will take place in Athens, from the 24th until the 30th of August.
The theme "Libraries: dialogue for change" invites the Library and Information Science international community to discuss, re-examine, re-think and re-interpret the role of libraries as promoters of change.
DataScouting will be an exhibitor at the IFLA World Library and Information Congress. Visitors will be able to visit our booth (No C102) and get informed about our services, products, and technical solutions as well as projects we have materialized with local and international libraries and archives. Additionally, visitors will be able to have a unique experience of MagicBox, an astonishing innovation that magically fuses traditional display cases with actual hands-on experience.
The WLIC of IFLA is one of the most important events in the field of library sciences. The 85th edition of the IFLA WLIC is taking place in Greece for the first time and it is expected to attract an average of 4000 participants from 120 countries.
About IFLA
The International Federation of Library Associations and Institutions (IFLA) is the leading international body representing the interests of library and information services and their users. It is the global voice of the library and information profession. IFLA is the main platform for formulating goals, exerting influence as a group, protecting interests, and finding solutions to global problems. IFLA offers you an international network to exchange ideas and to promote international cooperation, research and development in all fields. IFLA depends on the cooperation and active involvement of its members to reach its goals.