AMEC is the International association for the measurement and evaluation of communication and currently counts more than 140 members in 49 countries worldwide. DataScouting became Associate member of AMEC this year.
Every year, AMEC members meet to share and discuss best practice in media evaluation work and communications research.  This was the sixth AMEC summit I attended (I missed the one in Madrid) and every time I am left with the best impressions: fresh ideas, key insights, great discussions, meeting new people. With 50 speakers, over 200 delegates from 30 countries, this year 2-day summit delivered some very interesting things to consider. My 10 takeaways from the #amecsummit are:
Earned media is the new currency, the new magic ingredient: the PR industry is changing because where the money comes from has changed. CMOs have fallen in love with earned media, according to Stuart Smith, Global CEO for Ogilvy PR, making communications measurement a lot more important.
"How do you measure not being in the news?" Meredith Stevens, Director of Digital Strategy for the National Cattlemen's Beef Association brought up the million dollar question. Measuring ROI on something that has not happen yet is the next challenge and it is called predictive analytics. Is this the next big challenge for the future of the industry? Maybe we will hear more about this in London next year.
"Fail fast, fail cheap, try again, improve and scale up": a different message than the usual success stories from Paloma Escudero, Director of Communications for UNICEF. Failing allows you to adjust and improve. Not everybody wants to try different approaches to evaluation and be willing to learn. But those who make the effort grow better with greater insights.
"If you can't measure it doesn't matter": Rachana Panda, Director of Corporate Communications, South Asia, GE admitted that their managers cannot understand the value without numbers. So, yes make it measurable, but only if it matters.
"I'm @sweden": Sweden innovates by handing over the official @sweden twitter account to different citizens every week and getting stunning results. This was a good example of diversity and democracy on Twitter and a brilliant, progressive case study by the Swedish Institute on how to establish grassroots advocates.
Organizations need to have "architecture of listening": Watch out: Behavioral economists will eat measurement practitioners for breakfast if they do not listen, Jim Macnamara, Professor of Public Communications at the University of Technology Sydney stressed. You cannot engage people without listening so listening should be at the heart of measurement. The 80% (talking)-20% (listening) model needs to come closer to the 50%-50% mix.
"The business that has the best people wins": an important message from the master class session with the CEOs of the three largest businesses in the media monitoring and evaluation industry as they shared consolidation and integration experience. John Croll (iSentia), Peter Granat (Cision Group) and Walter Patanella (Kantar Media News Intelligence) agreed that technology is vital but most important is to be unique and invest in people.
Copyright Round Table: What do we need? According to Christophe Dickès, Chair, Joint AMEC/FIBEP Copyright Committee, Global Copyright Director at Kantar Media News Intelligence we need Exhaustivity, Flexibility, Simplification and Fair European environment. MMOs are ready to pay fair remuneration which should be one of the most important principles in the new Copyright Directive. What should we do? Media monitors should be in charge of enforcing copyright online said Eric Mamer, Deputy Head of Cabinet in EU Commissioner Günther  Oettinger's Digital Economy and Society team. What not to expect? Mr Mamer confirmed that no pan-EC licensing will be proposed while he noted that a fair environment has to be created.
You asked to keep it simple, so here it is: The Social Media Measurement Framework gets redesigned, simplified, easier to understand, more relevant and interactive to encourage planning before action. Richard Bagnall, CEO of Prime Research explained how to use the GOST model (Goals, Objective, Strategy, Tactics).
"Take a chance on me" – No doubt 'the winner takes it all' but all shortlisted companies deserve we 'take a chance' on them. So, this is my way of saying congratulations to all AMEC (and FIBEP) members) that made it at the AMEC awards with this Abba song lyrics. You are all winners because you are 'the first in line' and you 'gonna do my very best and it ain't no lie, if you put me to the test, if you let me try…'
Last but not least. My best quote from #amecsummit came from Jeff Kuhlman, Vice President, Global Communications, Nissan Motor Co. Ltd., Japan: "In God we trust but in others, it's Data"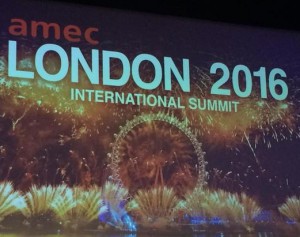 From Upping the Game in Amsterdam to Winning the Game in Stockholm, will London be Changing the Game next year? We will find out in 12 months, as AMEC wants to make the London Summit the biggest business networking opportunity yet.