The main objective of every company is to make / build great products. But defining "great" can be a highly subjective exercise. At DataScouting we believe that if we want to be successful as a team, it is important to ensure that we all share the same definition of greatness, and we all work from the same playbook.
With that in mind, we took a look at the dimensions that are considered to make a media intelligence dashboard a great product for media monitoring companies, media and PR agencies, advertisements companies, government bodies, and comms departments, and we measured them against the qualities of our MediaScouting Core.
MediaScouting Core is a robust, white labeled delivery platform that aggregates content from  online/social, dark web, broadcast, print, and other data sources.  Visualize your data, create reports and alerts via an integrated dashboard, so that your clients can make smarter, actionable decisions. Provide to your clients a real-time understanding of their media intelligence ecosystem while keeping all your data secure and safe in your own cloud or on-premise infrastructure
Solid value proposition
A great product must solve a problem for an end user; and there are many different user needs: known and unknown, complex and simple, natural and artificially created, part of a chain of needs or standalone; but every product needs to speak to one of these needs and solve it.
What we believe: MediaScouting Core's value proposition lies in being suitable to respond to different user requirements, deliver specific benefits, being able to solve certain problems and improve the user experience, in a way that is better than what others offer.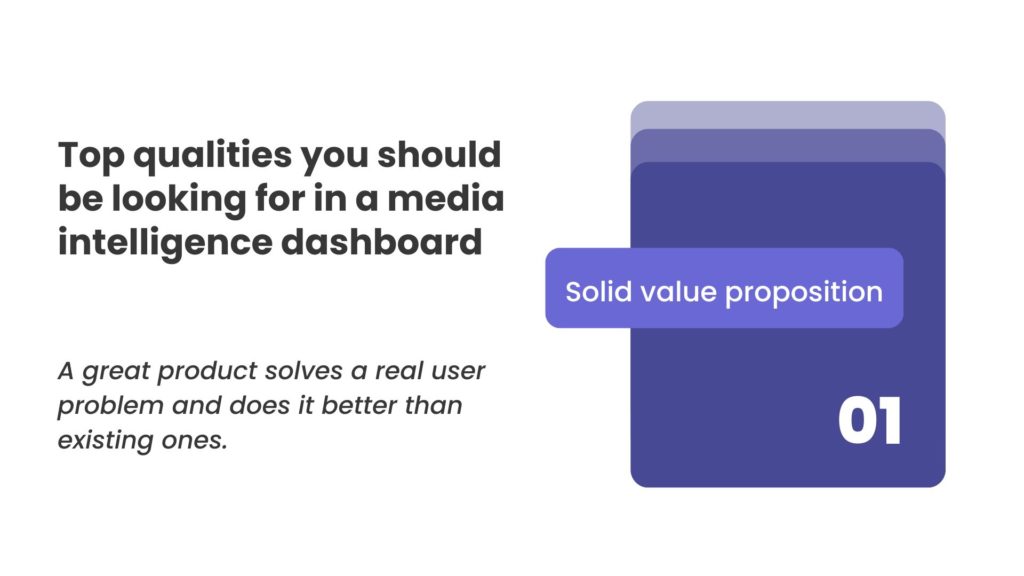 Usefulness
Is it easy to use? Because your product might be sophisticated, but complex to use. Every product should, foremost, be explanatory, easy to follow and understand, in order to keep users interested and focused.  The end user you are aiming at must be aware of the need your product is solving. Your product must be able to explain itself.  Products with a value proposition that can be explained in just a couple of sentences can reach wider markets more easily.
What we believe: We designed MediaScouting Core with simplicity in mind, powered with AI modules, so that each action is as simple as it can be, presented in a smart and friendly way.  MediaScouting Core has a great user onboarding, assisting new users (from different departments with different needs) to understand and experience how the platform is going to help them perform their tasks and achieve their goals. The platform offers interactive guides, full documentation, brochures and product tours.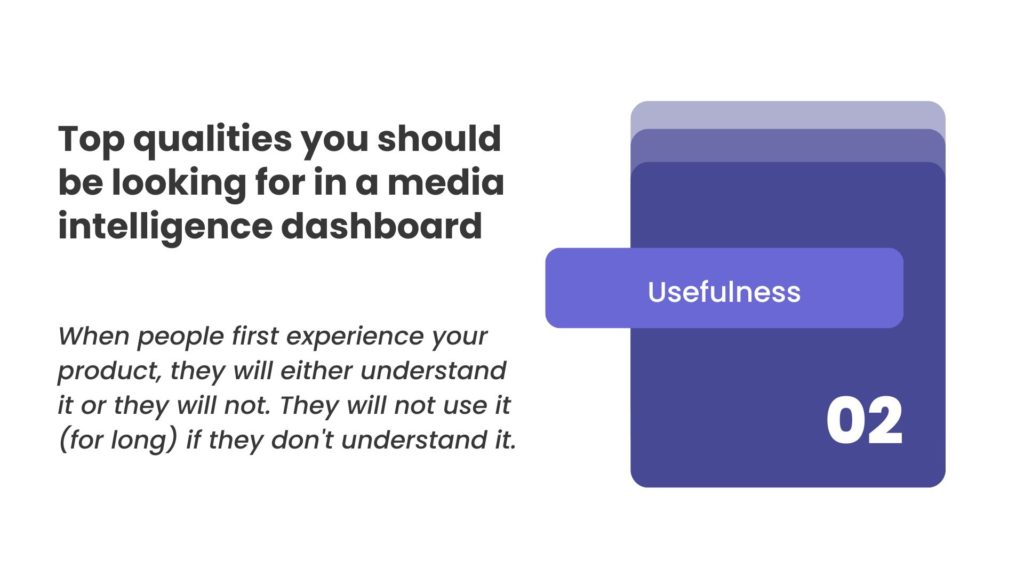 Scalability
A great product must go beyond just fulfilling a need, otherwise it will not last long: it must also succeed at making the process better or easier. User needs are not static. Likewise, a product that meets a need at first but does not evolve accordingly to the users' new requirements, will not last long either. A great product builds habit generation, meaning the more you use it / engage with it, the more dependent on it you become.
What we believe: At DataScouting we keep upgrading our media intelligence platforms because it is a consistent journey that requires effort, research, improvement, and customization.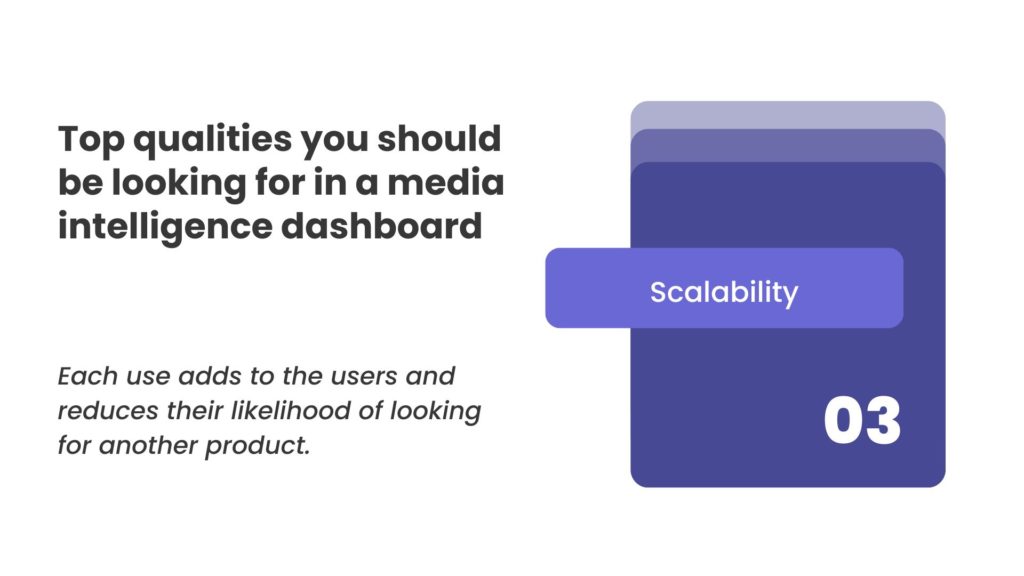 It has a good price for value
Most users will be willing to pay as much as they can to obtain a long-lasting, satisfactory product. This is why your product needs to be correctly priced for its value, for what it offers. You have to be honest about your product's capabilities.
What we believe: For a product to be viable (economically) it must always generate more value per user than its cost per user. At DataScouting we investigate what users/customers want and expect from our products, and thus, our MediaScouting Core follows the perfect scenario: it is based on a flat fee and it is independent of the number of users/customers that log in to the platform.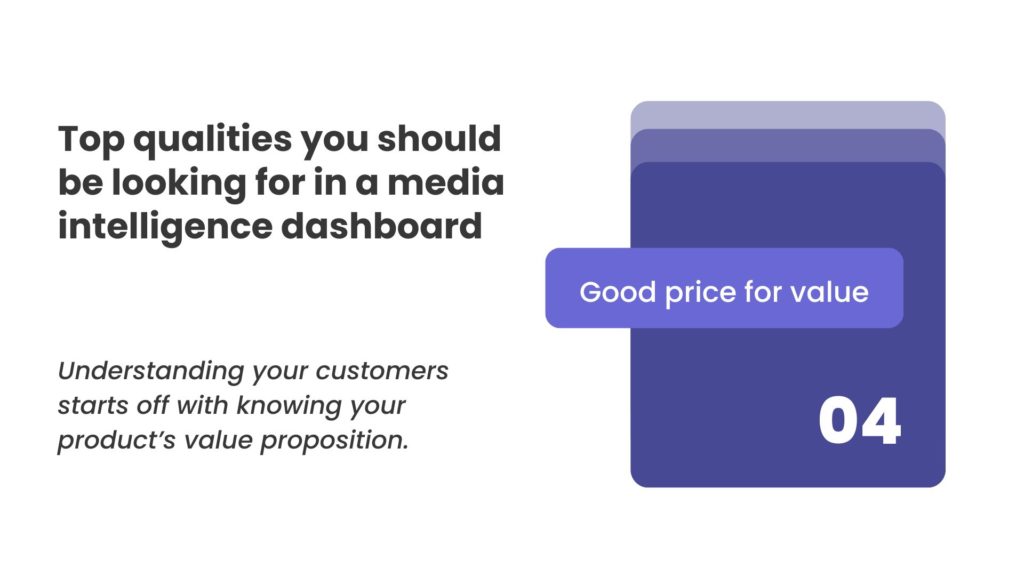 Conclusion
A good product provides general solutions while a great product provides specific features and characteristics its target audience wants. A great product must have a solid value proposition and solve a real problem, be understandable by users, perform their tasks as easily and efficiently as possible, and become better and harder to part with the more it is used: and this is what you should be looking for in a media intelligence dashboard.
So, if you are looking for an end-to-end media intelligence platform to collect and analyze data from online/social, dark web, broadcast, print, and other data sources and transform them into actionable information via a single dashboard, let us schedule a call to discuss our MediaScouting Core.