Interview with Tom Avramis, co-founder and Managing Partner of DataScouting, a software company that provides solutions in media monitoring.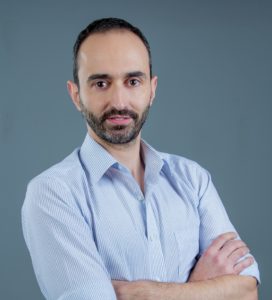 Hi Tom, what is your background and what is included in your current role at DataScouting?
I have worked as a programmer and project manager for over 15 years on various projects and for the last 10 years on media monitoring software. At that point, I decided to found DataScouting with my partner to promote our software to a broader part of the market. Currently, I am the Managing Partner of DataScouting and I overlook most operations in the company, but my passion is to advance our research division to utilize cutting edge technologies in our software solutions.
What differs DataScouting from other technology companies that focus on media monitoring?
DataScouting is a software company that provides intelligent software solutions to media monitoring companies and organizations. We offer our clients cloud and on-premise software solutions for monitoring news and advertisements in broadcast, online/social and print media, including a reporting and delivery dashboard. Our MediaScouting suite is a turnkey solution that fosters the daily production of media monitoring companies of any size.
We are not data aggregators and we do not provide media monitoring services. All our software solutions are built for the cloud, but, depending on the customer use case, they can also be installed on the customers' premises. We follow an open architecture paradigm, providing our customers with access to APIs, file structure, and the database.
Our software streamlines the daily workflow of all media monitoring companies by allowing companies to minimize the use of human resources typically involved in repetitive tasks that use technologies, such as speech recognition, audio matching, optical character recognition, face/logo detection, text analytics, machine translation, etc.
Have you recently, or do you plan to, release any new technology-based solutions that will add to or improve the services you offer your clients?
One of the latest additions to our software suite is a completely new module for advertisement monitoring in broadcast and print.
We are currently working on a major update to our user interfaces with new functionalities, such as dynamic updates, extensive audit and logging dashboards, machine learning enabled visualizations, and new multimodal clip browsing interfaces.
You have done some work with image and video analysis; how far have you come in that area in terms of research and what are you aiming to achieve?
We have created several modules related to image and video analysis that have been integrated into our systems. Examples of these include face, logo, object recognition, and news ticker extraction. One thing that these technologies have in common is the use of machine learning, and, specifically, deep learning and convolutional neural networks, which have revolutionized the field of artificial intelligence in the last few years.
Our face and logo recognition models provide results similar to human accuracy, solving problems that would otherwise be impossible to solve, or, at the very least, require significant human effort. Our goal is to fine-tune our existing machine learning models using knowledge transfer and minimal human feedback, making them easier to use and more adaptable to changes.
You provide media intelligence software solutions to government bodies. Do they require different solutions than other clients; and if so, how do you work with them to provide that?
Government organizations have similar needs to media monitoring companies, but the solutions we offer them are somewhat unique. For example, media monitoring for government bodies usually focuses on a narrower scope of topics than other companies; additionally they operate in smaller teams and need to work in real time, which requires more software automation. Government organizations have strict security and integration requirements, which other companies typically don't. Finally, government bodies are interested in compliance monitoring, usually for broadcast media, to check for things like quality compliance with regulations of the aired content.
What type of data or media not currently used for media monitoring today could be interesting to utilize in the future?
Media monitoring started as a service-based on-resource scarcity because it was impossible to read and assess news in all the newspapers and magazines in a given country. Today, media monitoring is based on identifying relevant data as quickly as possible and providing actionable information that allows clients to make knowledgeable decisions.
In the near future, automation, cloud, and machine learning adoption will definitely increase. Additionally, the media intelligence industry will face new challenges as new media formats will appear and automatic content generation will become more common; thus the need of identifying automated content will become pressing.
By Renata Ilitsky
The interview was contacted by Twingly and posted on Twingly blog on June 9, 2020.