This article about advertising technology by Sophia Karakeva was written for the ABX Advisory Blog. It was posted on the blog by Angela Jeffrey on June 17. 
Today's Special Report on the absolute latest technology for advertising comes from Sophia Karakeva, Ph.D., communications & marketing executive from DataScouting, based in Thessaloniki, Greece.  Sophia and ABX have both been deeply involved in the measurement of advertising and public relations.
---
No matter how companies do it, advertising remains one of the most important aspects of a business. However, advertising has evolved so much over the past decades that it has become nearly impossible for businesses to keep up. From simple flyers and giant billboards to taking your ads into space and licensing celebrity faces, technology continues to disrupt the advertising industry.
Disrupting OOH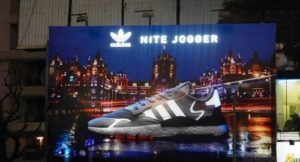 Oops, I did it again! Adidas is a brand that is active in all forms of advertising and has disrupted traditional advertising several times…and has done so once again. The brand disrupted the out of home medium (OOH) with its innovative concept of GIF. The OOH campaign features the premium show collection Nite Jogger and is drawing a lot of attention by replicating a flipbook-like experience in an outdoor setting,  which demonstrates originality and brand engagement, and pushes creativity to new limits.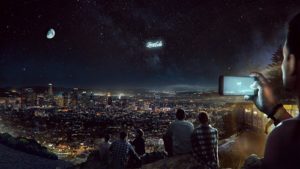 Ads in space! Is this possible?
Well, the Russian startup StartRocket has revealed plans to use swarms of tiny, light-reflecting satellites to create sprawling billboards in space. The ads will be visible only at night and be seen from just about anywhere on the planet. And they want to do so by 2021. They even have a test launch partner, PepsiCo for its Adrenaline Rush energy drink (or had, as, after a backlash on social media, PepsiCo said it has tried the technology but has no further plans to commercially use it at this time).
DeepFakes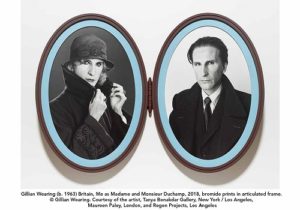 Apparently, we are in that point of history where everything can be faked. DeepFakes enables anyone with the ability to swap one face for another in an image or a video.  While this has been done in films for years, it required experts to pull it off.  Today, deep learning makes it accessible to all.
And for most, this sounds scary and is associated with something negative. But in advertising, it can be rather innovative and helpful. For example, Turner Prize-winning British artist Gillian Wearing used deep fakes in a relevant and creative way to market her work, as part of the Cincinnati Art Museum exhibition "Life: Gillian Wearing." While Wearing was researching the best in recent advertising to market the exhibition, she came across Nike's "Nothing Beats A Londoner", and that led to the deep fake ad idea, in which a series of strangers appear on screen with Wearing's face.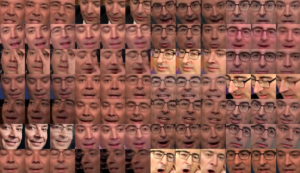 Artificial Intelligence in advertising should not be another black box
Brands need to understand what AI means and how it can help their business. The technology has implications on how the advertising industry uses talent and licenses personal brands, as well as the trust consumers,  will have in video content.
Video Content Production
Studios could change the faces of actors based on their target market or Netflix could allow viewers to pick the faces of actors before hitting play. This could work, for example, for YouTube advertising.  The actual actors need never to have participated in the creative activity at all!
Licensing Celebrity Faces
Imagine if Target could have a celebrity showcase their clothes for a month, just by paying her agent a fee, grabbing some existing headshots, and clicking a button. This would create a new revenue stream for celebrities, social media influencers, or anyone who happens to be in the spotlight at the moment. And it would give businesses another tool to promote brands and drive conversion.

Licensing faces is already happening.  Looklet is a business that allows apparel companies to (1) photograph their apparel on a mannequin; (2) pick accompanying clothes; (3) pick a model's face and pose; (4) and voila – have a glossy image ready for marketing.  What's more, they can restyle at will without models or photographers.
Personalized Advertising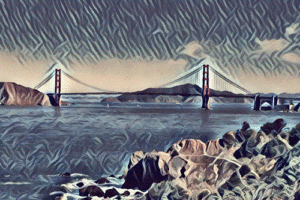 Imagine a world where the ads you see on the web include you, your friends or your family. Might sound strange today, but in a few years it might be the new norm, e.g when Coke will put your friends in a hip music video to convey joy, or Banana Republic could superimpose your face on a body type that matches yours, and convince you that it's worth trying out their new leather jackets. This means that once these algorithms are turned into products, advertisers will have access to powerful tools that will make them even more creative. And there have already been some interesting applications of this technique, like style transfer apps that make your photos look like famous paintings.
Augmented reality apps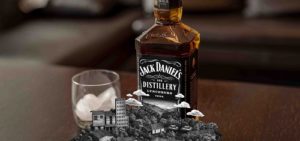 My favorite augmented reality app is from Jack Daniel's and I do not even drink whiskey. The famous Tennessee brand turned bottles into pop-up books with an AR app. How does it work? The AR experience app lets mobile users scan any of Jack Daniel's bottles to unlock a series of pop-up book-style dioramas that tell the history of the brand.
Modern engineering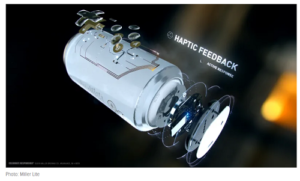 A beer can be turned into a video game controller? Is this possible? For Miller Lite it is! The Cantroller is part of its tie-in campaign for the ongoing 2019 E3 (Electronic Entertainment Expo) in Los Angeles.
The Cantroller, is indeed filled with a regular-ounce portion of Miller Lite, while at the same time it is a functioning digital controller, complete with micro-USB ports and a rechargeable battery. For me, Miller Lite really distinguishes itself with this pioneering idea.
It's time for standardization and transparency
Earlier this year, Unilever announced an initiative to build the first cross-media measurement model to help brands measure and understand campaign impact across the media landscape. In order to accelerate solutions for the industry, Unilever is leading an effort to develop a model that will combine existing industry measurement tools into a best-in-class system that measures a campaign audience, audience reaction, campaign impact and sustained impact over the short, medium and long-term.
How will Unilever measure the effect of these new technologies?  Is it much ado about nothing?  Or is renting someone else's face … launching ads into outer space … creating pop-ups or game controls on whiskey bottles or beer cans … or flipbooking OOH ads … some of the most effective advertising we've ever seen?
That was my final point…but there's clearly a lot more to come.