The AMEC Global Summit was held this year in Prague. For two days more than 300 delegates and experts from almost 40 countries around the world shared insights, fresh ideas, case studies, talked about research, new tool s and effective solutions.
Here are our actionable takeaways from the AMEC Global Summit:
Bring back trust in media
Fake news consumption has been exaggerated or incorrect. But, as Allyson Hugley (VP, Global Communications, Head of Analytics and Research at Prudential) pointed out, we cannot ignore the damage it has caused to the public's general trust in many media outlets. Not knowing which media outlets our target audience considers trustworthy, communications experts struggle in the PR work as companies need media exposure and coverage and the public needs to believe their news.
ONE Adobe! Consistency in monitoring methodologies
Oh, I loved that presentation by Jennifer Bruce, Global Lead Comms Insights at Adobe Inc.  Adobe decided to adopt a centralized media monitoring structure (with analysis and reporting) with one global provider. When Adobe carried out an audit, they discovered, among others, that every year the company produced more than 900 reports due to their decentralized solution. With their new centralized approach, Adobe managed to streamline global reporting, focus on media that matters, minimize data silos, prioritize consistency, streamline reporting requirements, and increase focus on measuring beyond outputs. The ONE Adobe team now shares the same practices, transparency and data warehouse.
Blockchain, not a good solution to fight fake news
Any doubts I might have had about blockchain are finally away…thanks to Jakub Jedlinsky, Assistant Professor at the University of Economics Prague. Blockchain does only 3 things…for those of you who believe it does a lot more. It is used for 1) voting credibility, 2) real estate tokenization and 3) for digital identity cards. Can it help with fake news? Actually no, because blockchain does not understand what is going on in the real world. It is not the right solution for that.
Clients still value traditional media!
One of the findings of the AMEC Global Insights Research that was released in June this year showed a surprising fact. Client demand for measurement and evaluation of traditional media, like print, radio, and television, was increasing at a five year high.
Robotic writing with structured data
Mixing business intelligence with media intelligence is the right path to go. Kasper Hülsen, CCO at Infomedia, is working on something exciting; Robotic writing! Due to their structured data, they can now automize custom, high-end, human-like executive summaries, comments, extracts, and more.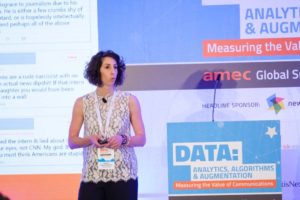 This year, we were a Gold Sponsor of the AMEC Global Summit.  Additionally, as an exhibitor, we had the opportunity to showcase our software media monitoring solutions for print and broadcast. Moreover, our Communications and Marketing Executive, Sophia Karakeva, talked about monitoring and tagging hate speech on social media, outlining the key objectives and findings of the EU-funded project DACHS (A Data-Driven Approach to Countering Hate Speech) that has been jointly awarded to DataScouting and the European Journalism Centre.