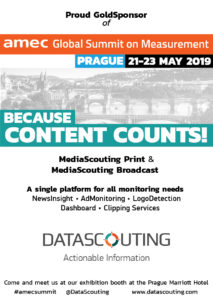 We are thrilled to be a Gold Sponsor of the  AMEC Global Summit in Prague from 21st to 23rd. This year's theme is Data: analytics, algorithms and augmentation – Measuring the value of communications.
Sophia will be presenting on Thursday about "Monitoring and tagging hate speech on social media" as part of Workshop L. The panel will include Professor Stavros Vologiannidis and Tina McCorkindale CEO of the Institute of Public Relations. The panel will explore hate speech and fake news through research and online implications to analysis. The workshop will be moderated by Francois Van Dyk, Head of Operations at Ornico. Mark the time: 14:45 and place: Bohemia Room.
Moreover, as a Gold Sponsor of the AMEC Global Summit, DataScouting will showcace its Media Monitoring Software solutions for Print and Broadcast, along with ad monitoring and logo detection tools.
The AMEC Global Summit is held at the Prague Marriott Hotel. If you are interested in booking a meeting us, please contact Sophia at soka@datascouting.com