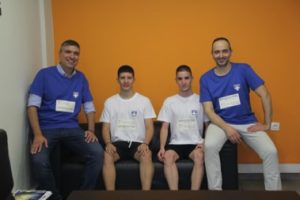 We are proud to sponsor two athletes of the Hellenic Taekwon-Do ITF team. In fact, they are twin brothers, and together with Enimerosi, we are happy to stand and support them in their ITF World Championship 2019 dream.
Konstantinos Dimitriou will be competing in the junior-male Self Defence Routine and Ioannis Dimitriou will be contesting in individual junior-male sparring (16-17) 57kg and also in the Pre-Arranged Team Mixed Sparring.
"This is our first athlete sponsorship. And we are happy that we can support Konstantinos and Ioannis in achieving great success in Plovdiv. We wish them, and all athletes who are representing the Hellenic Taekwon-Do ITF team, best luck," said Anastasios Avramis, Managing Director, DataScouting.
This year's ITF World Championship will take place in Plovdiv, Bulgaria from the 24th until the 30th of August.