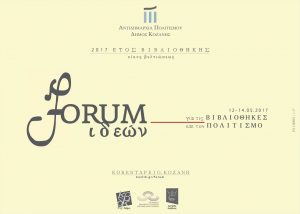 DataScouting is happy to attend the "Forum of Ideas for Libraries and Culture" being organized by the "Koventarios" Municipal Library of Kozani.
For three days, experts and friends of the Koventarios Library will meet in the city of Kozani to share experiences and knowledge, share ideas and discuss issues related to the operation, organization and development of the new building to house the Library.
DataScouting will be represented by Mrs Afrodite Malliari (Library & Information Systems Manager) and Mr Anastasios Avramis (Founder & Managing Director).
Last month, DataScouting signed the work of inventory, cataloguing and transportation of the Koventarios Library, a work that is considered of "historical importance" for the existence and the future of the Library. Founded in the second half of the 17th century, the Koventarios Library is one of the most important, historic libraries in Greece and in the Balkans.
DataScouting provides solutions for Libraries, Archives and Museums as well as Digital Convergence Services.