DataScouting attended the DEVit Conference that was organized for the fifth consecutive year in the city of Thessaloniki from 9 to 10 June.
Specifically, on Sunday, the five parallel full-day workshops took place at City College, where participants had the opportunity to extend their knowledge on a practical level, while on Monday at Royal Theater nine world-renowned speakers shared their knowledge and experiences in state-of-the-art technologies (frontend, backend, devops, mobile).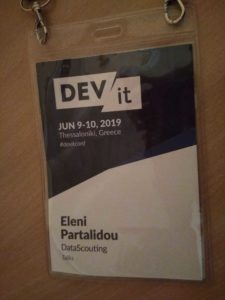 "DEVit is a web conference, suitable for developers that want to be informed about the latest technologies in software engineering. In this year's DEVit the talks were exceptionally interesting and were descriptive about migrating microservices to Go, a simple and reliable programming language,  noting how important it is to include UX experts in every stage of the project lifecycle and learning how to build Javascript module bundlers to tame the dependecies beast while understanding how webpack works under the hood. At the same time we learned about progressive apps, GraphQL, Material-UI and messaging systems," said Eleni Partalidou, software developer at DataScouting.
 "All the speakers were really good. Though, my favourite talk was about Quantum Computing by Jerry Nixon and I am also looking forward to experiencing the age where massive-scale algorithms will be able to be implemented.  I was happy to attend with the rest of the DataScouting team. It was awesome!" Eleni added.
It is worth noting that the conference is organized exclusively by the local community of developers, designers, marketers and friends of technology, which, as a team effort, already consists of more than 30 volunteers.
Check out the