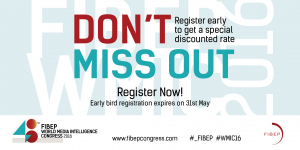 This year, DataScouting will participate once again in FIBEP 48th World Media Intelligence Congress, held in Washington D.C. from 17 to 18 November at the DuPont Circle Hotel.
With over 40 years of growth and experience, the FIBEP World Media Intelligence Congress has become one of the largest events for communications and marketing professionals to meet and share their knowledge and experience on the latest developments in 360-degree monitoring, on- and offline, and learn about the future of media intelligence and reputation management. The congress theme this year will be "From Media Intelligence, to Business Intelligence".  
For second consecutive year, DataScouting is supporting the FIBEP WMI Congress as Congress Partner, while since 2014 we are participating as Exhibitor, showcasing our innovative software solutions for media monitoring.
Since 2015, FIBEP opened their doors to both members and non-members from the communication, PR, advertising, technology and marketing sectors to take part in the event. The registration for the congress is now open.  Go to www.fibepcongress.com and register now to get a special discounted rate. The early bird registration expires on 31st of May.
FIBEP is the world's media intelligence association with over 120 corporate members in over 60 countries. The association and its members are focused on providing globally-driven, enterprise-scale solutions in the fields of PR distribution, journalist database, media monitoring, media analysis, as well as consulting services and SaaS platforms.