Roxane Papagiannopoulos, President at RMP Media Analysis, shares in this post her views on how mergers and acquisitions are still affecting the media monitoring industry, describes the connection between Media Intelligence and Business Intelligence, comments on how can the media monitoring industry disrupt itself to drive innovation and explains how new media, new tools and new audience are changing the game.
Q: Mergers and acquisitions are still a strong trend in the media monitoring industry. Where do you see this heading and with what consequences for the industry?
RP: The industry has been consolidating to answer a few industry player and client needs key among them: Increasing customers/margins (industry player need), providing a one-stop-shop solution (client need). There was a strong swing in one direction to make acquisitions, however it has tapered off somewhat. Industry players will always want more customers – that will not change. Retention should be the focus and many companies are seeing that investment as a better option. Investing in their own products and listening to customer needs to grow the business. Customers had been asking for a one-stop-shop but there is no perfect solution out there. Customer needs vary depending on current business goals and shifts in their own customer's perceptions and needs. The one-stop-shop is no longer driving desire for customers; it is nice to have if it fits their budget (primary need) and their business goals (primary need). However the one-stop-shops are rarely masters of multiple areas once disparate acquisitions are mashed together. The agility of smaller providers and consultants to fill the unique bill of sale clients seek, be it project based requirements, daily reporting, crisis communication monitoring or other on-the-stop needs, is trend customers are setting. The consequence for the industry with the consolidation that has occurred is lack of innovation at a pace that helps the customer excel with less effort on their part.
Q: Media intelligence and business intelligence – how are these terms related?
RP: Intelligence seems to have become a fall back term in the industry to define tactical aspects of public relations. You can see media intelligence used to define media monitoring or even as a synonym for business intelligence. Understanding the messaging and trends in the relevant media ecosystem for one's business is media intelligence. Applying that knowledge to business decisions defines business intelligence; this is the essence of making data-driven decisions.
Q: How can the media monitoring industry disrupt itself to drive innovation?
RP: The industry has been stuck in a measurement and monitoring gear that yields no insight into what the consumer is thinking and how they are reacting to the brand. In order to disrupt itself the industry needs to move away from answering questions like "How much media coverage did X receive?" and look to answer the question of "How did that media coverage impact our brand reputation, customer interaction with the brand etc.?"
Q: New media, new tools, new audiences; the game has changed. But what exactly does this mean?
RP: This means more work with less staff and less budget. Efficiency in sifting through the noise of all the new media needs to be driven by tools to help identify what matters most to our customers and potential customers. It means the industry has to innovate and leverage automation, human analysts and the customer to be able to focus on what the business needs to make informed, data-driven decisions.
About Roxane Papagiannopoulos
Roxane Papagiannopoulos is an experienced public relations measurement professional helping clients understand and measure their outcomes at RMP Media Analysis. You can find her blog here. Follow Roxane on Twitter, connect on LinkedIn or via e-mail or Friend RMP on Facebook.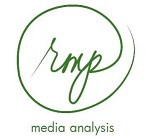 RMP Media Analysis is a strategic partner helping companies:
Monitor and evaluate media coverage
Measure and analyze the effectiveness of media campaigns
Strengthen the media portion of crisis management plans
Create a comprehensive media monitoring strategy
Enhance existing system(s) to maximize return on investment
Our services enable you to clearly demonstrate media presence, understand and drive corporate reputation, and track social media trends. We collaborate with teams throughout the organization to tailor solutions to fit each firm's unique needs and culture.