FIBEP has launched a new series of interviews, called "Exploring the Media Intelligence Business Ecosystem" (MIBE), in which special guests discuss the basic pillars of this ecosystem.
One of the major shifts that our industry is facing now is the rapid digitalization and technologization of the market. Therefore, the second MIBE Interview was dedicated to Technology and Growth and FIBEP invited Vladimir Petkov, CEO of Identrics, Casper Janns, CEO of Hypefactors, and Sophia Karakeva, FIBEP VP and Communications and Marketing Executive at DataScouting.
The event was moderated by Romina Gersuni (VP FIBEP and Global Strategy Manager at pressreleations), and the topics discussed were:
FIBEP initiatives regarding technology and growth;
FIBEP Tech Day 2021 outline;
FIBEP and technology suppliers;
How relevant start-up companies are to FIBEP;
How can FIBEP become more relevant to tech entrepreneurs; and
Tech to keeo an eye on 2021.
The interview was hosted by the FIBEP Secretariat on the 15th of April. The recording is available to FIBEP Members at the members protected area.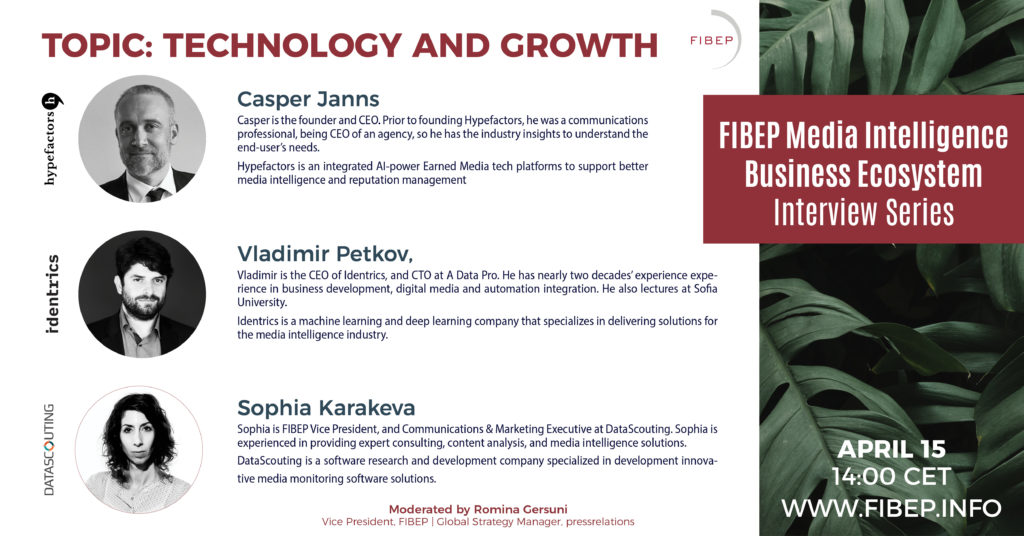 FIBEP is the world's media intelligence association with over 130 corporate members from all continents. The association and its memebrs are focused on providing globally-driven, enterprise-scale solutions in the fields of media monitoring, media analysis, PR distribution, journalist databases, as well as consulting services and SaaS platforms. DataScouting is a FIBEP member since 2014, offering sophisticated media monitoring software solutions. Using Machine Learning technologies such as Natural Language Processing, Automatic Speech Recognition, Optical Character Recognition, Logo and Face Recognition and Data Mining, DataScouting provides intelligent solutions for managing and delivering of broadcast, print, online and social media. Our MediaScouting platforms are designed to track news insight, monitor advertisements, identify logos and comes as a 360° solution with archiving, multi-form delivery, reporting, alerting and a dashboard for easy access anywhere, anytime. DataScouting can help you accelerate business grown and address business and technology challenged by designing and building high quality, reliable and secure applications tailored to meet your business requirements.