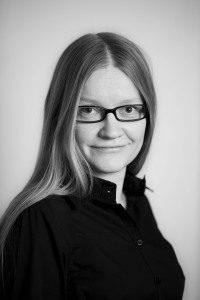 Johanna and I met at the IFRRO Athens World Congress that took place from 22 to 25 October in Athens. We both presented on the 23rd as part of the Connecting the Dots: The Future of Collective Management agenda and were part of the same panel about Technology and News: Copyright Implications. Both our presentations had to do with the role of journalists, from different ankles, though. Johanna talked about Robots writing the news and I focused on monitoring and tagging hate speech targeted against journalists in social media. As a freelance journalist, Johanna has deep knowledge of the risks that journalism faces nowadays, including hate speech. I was impressed with her book (even though got to read only the small part that is available in English), her involvement in hate speech projects and in general with her as a professional and a person.  And here is an interview with Johanna sharing her views.
Q: Tell us a few words about yourself 
Johanna: I am a freelance journalist and non-fiction author. I specialise in verification, fact-checking, and online misinformation. I hold workshops on verification and write a regular column about misinformation. I am also a founder of the investigative journalism publisher Long Play.
Q: Do you believe journalism is in risk nowadays?
Johanna: Journalism has been at risk for at least a decade now, as news organisations have been struggling to find new business models and as the profession has faced an existential threat from the fact that everyone can now become a publisher. In more recent years, there have been attacks on individual journalists and also journalism in general by people and groups who want to undermine the credibility and trustworthiness of public service journalism.
Trust in institutions is on the decline and journalism as an institution has not been able to renew itself enough to regain that trust.
Q:  Why do you believe journalists are a special target of hate speech, especially on social media?
Johanna: There are political groups who want to silence reporting and discussion about certain issues. Journalists are an easy target as their work is public and open to criticism in any case.
Q: What do you believe the real harm of hate speech is? 
Johanna: Our societies are at risk of losing many voices from public debate, namely women and minorities. This is a serious threat to democracy.
Q:  Any ideas how to improve the health of conversation online and on social media?
Johanna: I think social media companies need to own up to their responsibility. If they can get rid of pornography and spam on their platforms, surely they have the tools to make their services safer for everyone. This should apply to small language areas as well. Myanmar is a horrific example of what happens when Facebook fails to moderate violent content.
Q:  Hate speech does not only affect the individual journalist targeted but also has an overall "chilling effect" on the freedom of the press. How can we ensure journalists remain free to carry out their work? 
Johanna: I think at the moment we need more discussion about both the hate campaigns against journalists and the issues that can cause these campaigns. The more people talk about these things, the better. Hate campaigns are started by a relatively small number of individuals (even though they often catch on and lots of others join in) and they cannot go after every single person. More speech against hate speech!
Q: You have been involved in hate speech projects and you have written a book 
Johanna: The Internet of Hate and Loathing (Vihan ja inhon internet, Kosmos 2017) is a book of comics journalism about online misogyny, a phenomenon that threatens our democracy. I have written the book and the artist Emmi Nieminen has illustrated it. You can read a short extract in English here.
The book begins with true stories of women who have been targeted solely due to expressing their opinion online, or because of their work as academics, journalists, aid workers, and politicians. The second part looks into what academic research tells us about online hate. Next, we look at the haters and trolls and their motives. The book concludes with a very practical approach into solving the problem: how the targets can protect themselves and how we can all help.
Q:  Is the current response to hate speech against journalist by the different actors sufficient to address the problem?
Johanna: Nope. We need all kinds of efforts to battle this: machine learning, AI, better algorithms from social media companies, better moderation, education, and quite possibly some kind of regulation of social media.
Q:  Do you believe that projects like DACHS can help journalists protect themselves against hate speech? 
Johanna: Absolutely. It looks like a very worthwhile endeavour to me.
Thank you Johanna for this great interview!
Get to know Johanna and her work more, follow her on Twitter or connect on LinkedIn.