DataScouting has signed an agreement with a digital marketing consulting firm in Nigeria for the installation of the MediaScouting Broadcast Suite as a complete solution for monitoring TV and Radio.
Besides the 24/7 record and management of TV and Radio audiovisual streams, the MediaScouting Broadcast Suite comes with the following features:
Archiving;
Indexing of all relevant metadata;
Web interfaces for administration;
Web interfaces for annotation, retrieval, and delivery;
Reporting with graphs; and
Alerting and delivery through the online dashboard.
Additionally, for this installation, the MediaScouting Broadcast Suite will include the Ad Monitoring module.
"We are happy that a digital marketing consulting firm in Nigeria has chosen us as their technology partner. We look forward to working with their team and making sure we provide them the best media intelligence software solution and ongoing support," said Tom Avramis, Managing Partner of DataScouting.
The MediaScouting Broadcast Suite includes technologies of image/sound processing and Machine Learning, such as Logo Detection, Face Detection, Advertisement Monitoring, TV Station Logo Recognition (Digital On-Screen Graphic), Automatic Speech Recognition, and Natural Language Processing.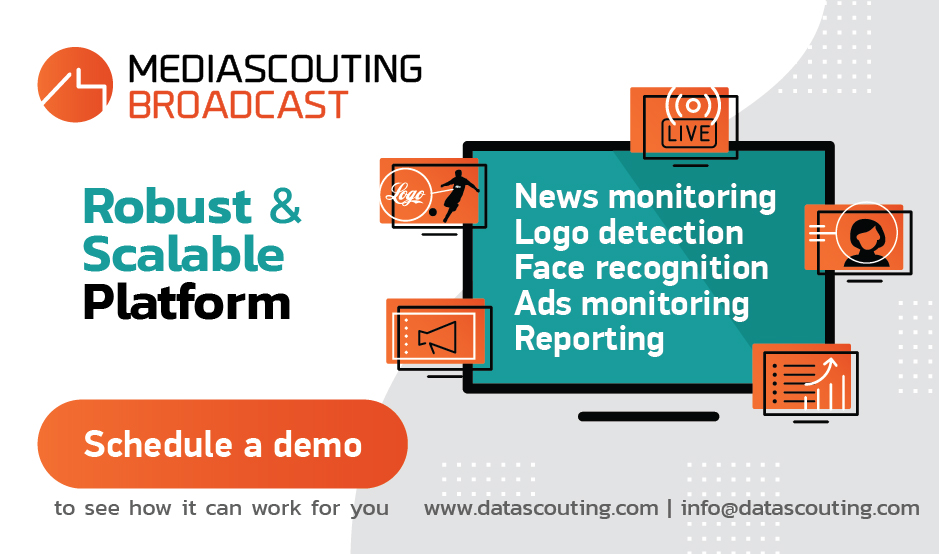 Reach out to find more about the DataScouting MediaScouting Broadcast Suite
Check out other media intelligence software solutions.