Series of mini-interviews about Artificial Intelligence
Artificial Intelligence is essential in analyzing the massive volumes of data, now available, and convert them into actionable information, knowledge and insights.
We are asking members of our team what is their perspective of Artificial Intelligence and its role related to ethics and trust, media intelligence industry, machine learning, and the core value proposition of AI tools for IT.
In #1 we asked Tom to tell us why is Artificial Intelligence Important and how can we build trust. In #2 we asked Sophia, to tell us about the role of Artificial Intelligence in the media intelligence industry. In #3 we are asking Christina Tzogka, our Data Scientist, to explain what is human-in-the-loop in Machine Learning.
Q: What are the challenges for artificial intelligence in media monitoring and measurement and how human and machine intelligence are combined?
Christina: Artificial intelligence is frequently either overstated or presented as part of some dystopian future. Somewhere in the middle, we can see the tremendous capabilities and breakthroughs of Artificial Intelligence to improve our world.
In the media intelligence sphere, Machine Learning is especially helpful to cut through the noise of traditional and digital media by augmenting the textual and audiovisual media streams using technologies such as face and detection, object recognition, speech recognition, and text analytics. These technologies already perform similar or better than humans, allowing machines to crunch extraordinary amounts of data and provide answers in semi real time.
As a result, these technologies should be included in tools that PR experts and communication professionals are using, enabling them to slice and dice within datasets and drill down into content results to get useful insights in a far easier fashion. At the same time, software and hardware infrastructures have become more scalable and flexible, allowing far more efficient retrieval of the desired results, and also enabling more effective analytics and visualizations.
The supervisor of those specialized engines and their connecting factor are human experts. Therefore, in my opinion, Machine Learning algorithms should be flexible enough to include human experts in the loop, in order to provide meaningful guidance to algorithms, and at the same time for algorithms to ask for guidance, when needed, through Active Learning.
It is worth mentioning that according to the ICCO World PR Report for 2020-2021, investment in IT and technology is expected to grow over the next five years. So, no doubt, that technology will become a core business function within organizations. Hence, having faster and better access to relevant information in real-time, and being able to automate repetitive tasks (such as tracking media coverage), gives PR professionals the ability to focus on other activities, such as creative thinking, strategic planning, and instinct.
At DataScouting we have an active research and development team, and our media intelligence software solutions combine leading-edge technology and human editorial tools to help PR experts and media monitoring professionals better measure communication effectiveness.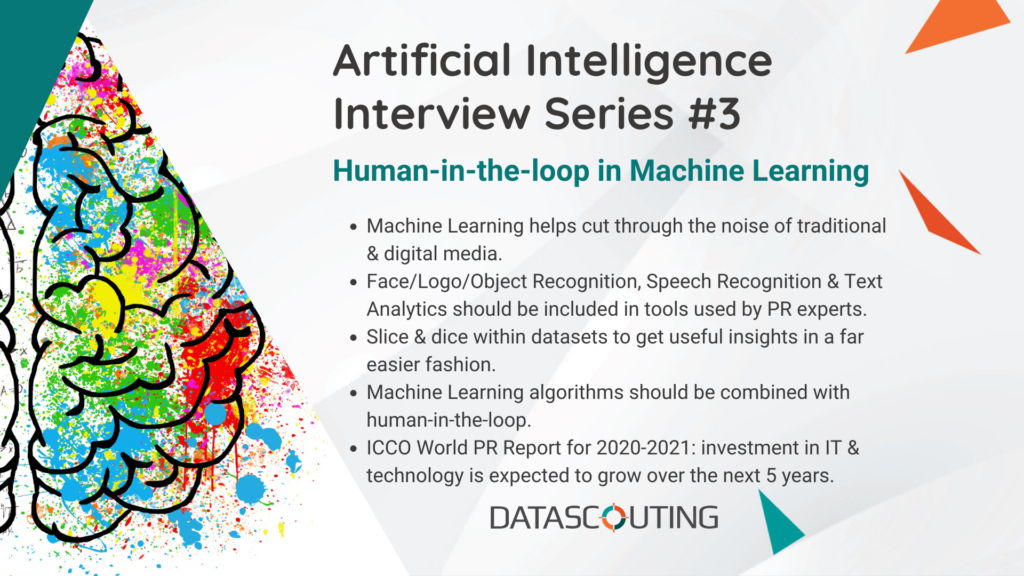 Read #1 Interview with Tom Avramis, Managing Partner, about Ethics and AI: Building Trust
Read #2 Interview with Sophia Karakeva, Chief Communications Officer, about AI powered Media Intelligence
Read about Top Reasons why PR professionals should embrace new technology