DataScouting Managing Director, Mr Anastasios Avramis, shares with the #ASKTHECEO series his own experience with TechSaloniki
What does TechSaloniki mean to you?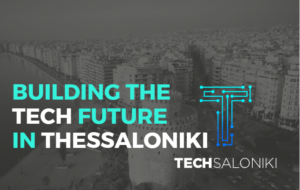 TechSaloniki started as a simple idea and in just 3 years it evolved into the No1 skill matching event in the Information Technology field. The response and success were so unexpected, that, nowadays, TechSaloniki spreads wider than Thessaloniki, reaching Northern Greece. The Information Technology field is growing and developing rapidly, and companies are in constant need for new talent – from experienced professionals to fresh graduates. In this direction, TechSaloniki is the ideal event, as it brings together, under one roof, ICT companies and people who are looking for new job opportunities.
As a founding member, DataScouting has supported TechSaloniki from day one. This 2-day event is a unique networking event for all the participants, with presentations, workshops, screening of technical skills and interviews of candidates with some of the biggest companies in information and technology in Northern Greece.
What kind of talent are you hiring at TechSaloniki this year?
This year, at TechSaloniki #5 we are looking for young and talented people, who are passionate about information science, they want to join a dynamic team, and work on local and international information science projects.
DataScouting offers software solutions for recording, archiving, processing and enriching textual and audiovisual streams from media, such as TV, radio, print and online and turn insights into knowledge.
Specifically, this year, we are looking for people who want to invest in open technologies, such as JAVA, JavaScript, ElasticSearch and PostgreSQL.
Candidates can get a full overview of the Java Engineer job description at TechSaloniki's web site.
What advice would you give to the candidates of TechSaloniki 2019;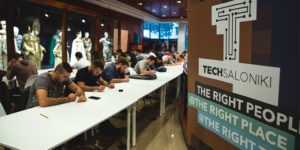 Overall, our advice is simple. We tell people, who are interested in working in the information science industry, that being passionate about their field and understanding the basics is a good start but they need to step up; they should absorb everything new and practice non-stop. For example, they can participate in open source projects or even create small groups and work on their own software projects.
At the same time, they should pay great attention to their CV. They should keep it updated and properly adjusted to the specific requirements of every job position they apply for, emphasizing their qualifications and experience.
It is extremely important they come well prepared for the job interview, to be familiar with the company's mission and its projects, and thus be able to be part of a constructive dialogue during the interview.
Last but not least, they should be relaxed and try to get the most out of their experience at TechSaloniki. During the 2-day event, they are given a really unique opportunity to meet in person representatives of the largest ICT companies from Thessaloniki and Northern Greece that might be their future employers.
Can you briefly describe the hiring process for the lucky ones?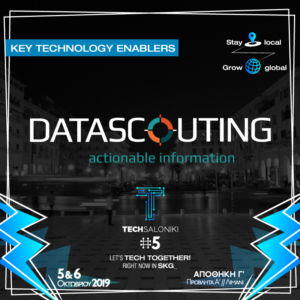 The evaluation starts with an interview, during which we try to get to know the candidate. Mostly we are interested in hearing about a candidate's personality traits: eagerness and appetite to create while being part of a team, to share our values, mission, and culture through his role in the company.
My motto is that a company can thrive only with the right people. Therefore, we invest in talented people, and with no hesitation, I can say that we have one of the best teams in our market.
Finally, how would you describe your company to the new candidates?
DataScouting is a software research and development company, specialized in creating traditional and online media intelligence and analysis platforms, as well as providing digital convergence services and software solutions for cultural heritage organizations such as libraries, archives, and museums.
Using Machine Learning technologies such as Optical Character Recognition, Text and Video Analytics, Information Classification and Speech Recognition, DataScouting's platforms automatically augment textual and audiovisual streams, helping you to manage and easily identify the content of interest.
Additionally, DataScouting is investing in research and development, using machine learning technologies. Over the past year, we have participated in several EU and national R&D projects.
TechSaloniki #5 will take place this year at Warehouse C, in the Port of Thessaloniki, from 5 to 6 October.