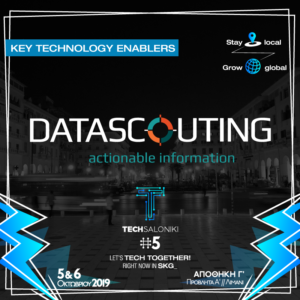 DataScouting will participate in TechSaloniki #5, powered by Stoiximan.gr, from 5 to 6 October at Warehouse C in the Port of Thessaloniki. TechSaloniki is the No1 skill matching event in information technology in Northern Greece.
As a founding member, DataScouting has been supporting TechSaloniki since day one. This year at TechSaloniki #5, DataScouting is not only a Silver Sponsor but also a Key Technology Enabler.
This year, as a Key Technology Enabler, DataScouting is in charge of the (multiple choice) testing creation system, the digitization process of the test results and the automated grading of the skill matching results.
Find your dream job at TechSaloniki #5
The fifth edition of TechSaloniki will be the biggest so far. More than 35 of the largest IT companies in Thessaloniki and Northern Greece will be there looking to recruit new talent.
During the 2-day event, participants will be able to benefit from a very rich program:
Workshops
Presentations from industry experts
Screenings and skill matching tests
Job interviews
Non-stop networking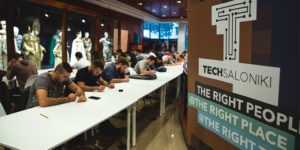 In this year's TechSaloniki, we are looking for young and talented people, who are passionate about information science and they want to be a part of a strong team and participate in local, EU and international information science projects.
Responsibilities
Participate in system design and software architecture processes
Maintain existing codebase of our core products
Implement and deliver new features in production
Requirements
1+ year in Java 8+ experience
Involved in production-level codebase
Solid understanding of Web technologies and APIs
Familiarity with microservices-based architecture
Familiarity with Spring Framework, JPA, Hibernate, SQL
Familiarity with GNU/Linux
Highly proficient in spoken and written English
Knowledge sharing culture
Nice to be familiar with:
Spring Boot, Java EE, GWT
PostgreSQL, Elasticsearch, RabbitMQ
Functional programming concepts
Design patterns
Frontend web architecture
Continuous Integration
Agile software development
You can apply for the position directly at TechSaloniki Job Openings.
Our advice to candidates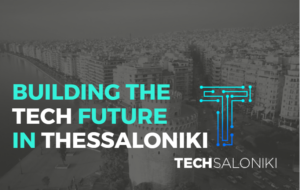 #ASKTHECEO: Mr Anastasios Avramis, Managing Director of DataScouting, shares his tech tips with candidates to come well prepared to TechSaloniki #5.
Our team will be there to meet you!