FIBEP Interview Series with Kostas Vaxevanis
FIBEP hosted another episode of its Interview Series about political polarization in social media on the 4th of October with Mr Kostas Vaxevanis, publisher and investigative journalist. The interview was sponsored by DataScouting.
Mr Vaxevanis talked about polarization in social media and how it works (is it the result of algorithms that work behind-the-scenes or triggered by government interference with sponsorship filters and restrictions over free expression)? Are we entering a new era of media regulation and what can we learn from the Greek government's COVID-19 media awareness campaign crisis (the so called "Petsas list")?
Mr Kostas Vaxevanis is not well known only in Greece but he is internationally acknowledged, having received two international awards for his work as a journalist. In his long career, Mr Vaxevanis has been war correspondent covering many conflicts around the world (Bosnia, Gulf war, Palestine, Kosovo, Iraq) and has interviewed numerous leaders, including some of the most controversial personalities like Radovan Karadzic, Leh Valensa and Musa Mohammed Abu Marzook, the wanted leader of Hamas. Since 2017, he has been publishing the weekly investigative newspaper Documento. Mr Vaxevanis has been under fire many times for exposing corruption and troubling government implications, but this is the price you pay when you try to engage and empower the public through investigative journalism and groundbreaking storytelling.
The event was moderated by Sophia Karakeva, FIBEP Vice President and Chief Communications Officer at DataScouting.
DataScouting is a FIBEP member since 2014. As a tech provider we offer FIBEP members sophisticated media intelligence software solutions to optimize their business workflow across print, TV, Radio, online and social media. As a FIBEP member we are supporting all of FIBEP's activities and we are proud sponsors of all major events (World Media Intelligence Congress, Copyright Talks, Tech Day).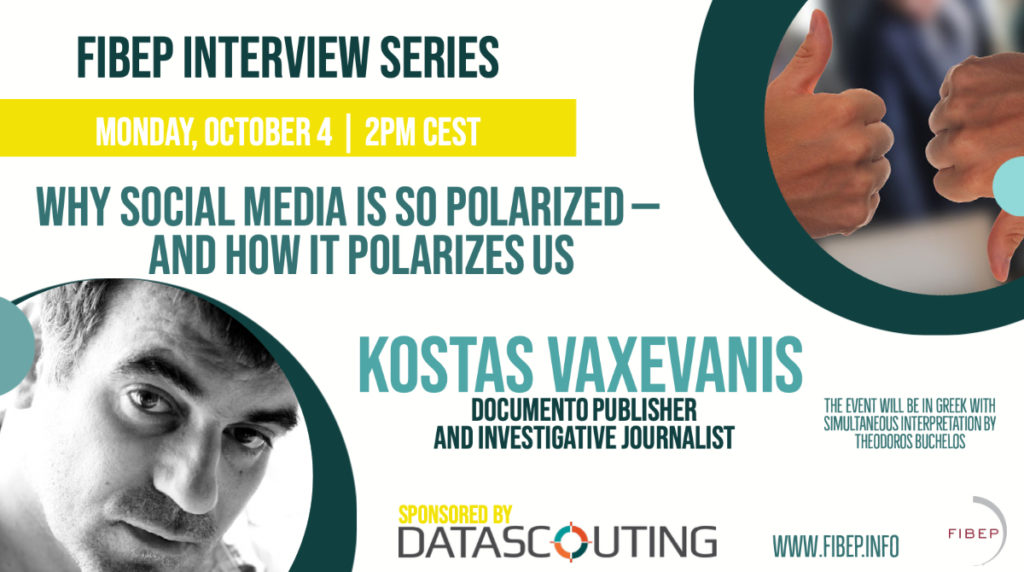 Interested in more FIBEP Interview Series with DataScouting?
Check out our media intelligence software solutions.