AMEC runs several special interest groups. One of them is the Tech Hub, dedicated to technology. This SIG has launched with an exclusive basecamp group (over 50 members) providing collaboration, networking and a thought leadership forum for technical members and tech experts within existing AMEC member companies. It is chaired and managed by Sophia Karakeva, AMEC Board Director and Chief Communications Officer at DataScouting.
Tech Hub is a community of AMEC members working together to better understand and further the adoption of new technology by professional communicators including PR agencies, which are already part of this group.
There is no doubt that technology will become a core business function within organizations and according to the ICCO World PR Report for 2020-2021, investment in IT and technology is expected to grow over the next five years. This is an incredible opportunity.
AMEC Tech Hub intends to lead a dialogue about the importance of trust and transparency in technology and collaborate on best implementation practices, enabling professionals to embrace and apply new technologies effectively.
Objectives
Develop an understanding of communicators and industry experts about the impact that AI technologies have on communication and why they should care.
Explore the current and future potential of AI, machine learning, deep learning, and cognitive computing to transform communication analysis, data, measurement and evaluation.
Practical considerations: AI and automation are evolving application and use-case every day. Develop thought leadership to educate the market about the changes.
Update the AMEC award categories to reflect tech solutions and AI used by professional communicators.
Key activities
Technical Referral Asset (TRA): it will be a resource to help communication professionals develop and build their tech stack to locate the best partner(s) for their needs. This project aims at mapping AMEC members based on their specialization and getting their products and services in front of companies who are searching their solutions.
RFP Glossary: This glossary has been designed for proposal and procurement professionals as a helpful resource for quick reference. The idea is to provide clear communication as most of the time RFP and proposal process is full of specialized phrases, abbreviations, acronyms and technical jargon, which makes it hard to keep track of all of the terminology.
Tech Hub Insights: Create content for the AMEC blog (articles, expert mini-interviews, use case scenarios etc) that are thought leadership and not commercially focused. The idea is to create a channel for PR professionals to communicate to the Tech Hub their needs for automation/machine learning so that tech experts can better understand their needs and align with the right technology / solutions. (More Tech Hub Insights articles can be found here).
Ask the Tech Hub Experts: is a series of live discussions on embracing and applying new technologies effectively. Every three months, Tech Hub Experts will be sharing their expertise with the group and AMEC members.
AMEC Measurement Month: five webinars (one per week) have been scheduled to take place under the Tech Hub umbrella for the AMEC Measurement Month (November) covering best practices of software/tools/technology.
DataScouting is an AMEC member since 2014. As a tech provider we offer AMEC members sophisticated media intelligence software solutions to optimize their business workflow across print, TV, Radio, online and social media. As an AMEC member we are proud sponsors of AMEC Global Summits.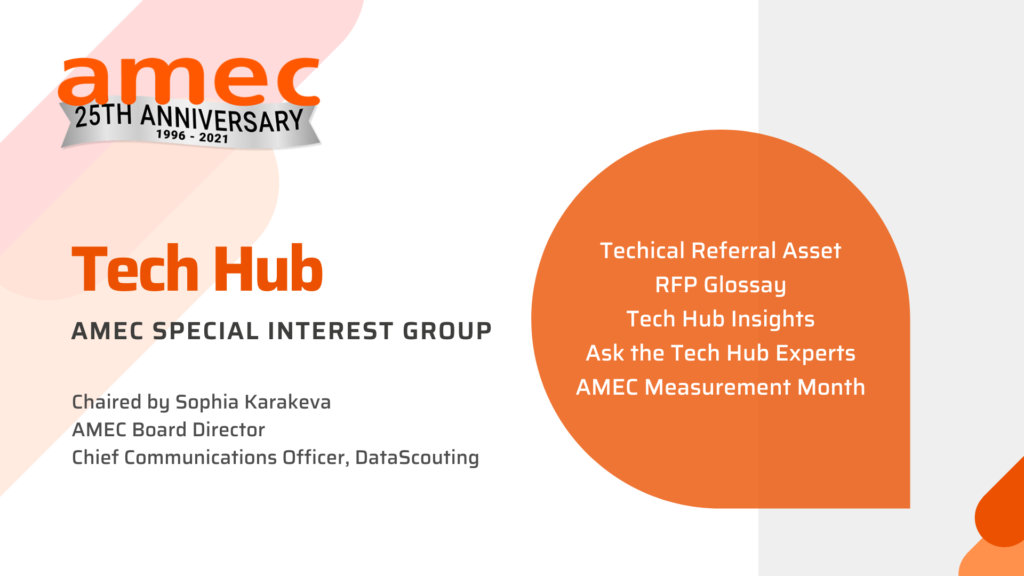 Check out our media intelligence software solutions.