We are happy to be a sponsor of the 2nd Thessaloniki Design Week, taking place from 13 to 17 October. The event this year is organized under the main theme of Innovation in Design.
The 2nd ThessDW is developed upon two thematic sections "Shaping the Public Space" and "Creating in our Personal Space", aiming at encompassing the new developments in both large scale and small-scale design.
DataScouting is happy to sponsor the 1st prize at "large scale projects", of the International "Open Call" competition of ThessDW 2021 that goes to the Leafy project by SuperSpace. Leafy is an artificial garden made of modular, kinetic leaves mimicking nature. It maintains a resilient, sustainable environment for actual vegetation and plants, providing sufficient care and awareness about the conscious use of water and reminding the legacy of planting more trees.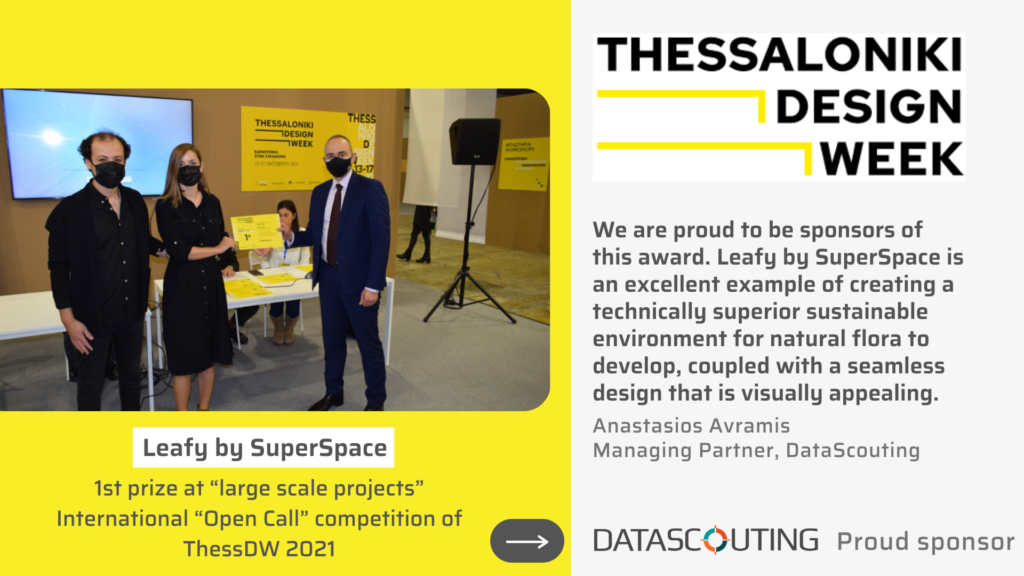 From October 13 to 17, various events will spread across a number of venues throughout Thessaloniki, such as exhibitions, conference, speeches, workshops, seminars, tours, awards ceremony. (You can see the full programme here). All ThessDW activities are aiming at encouraging communication, the exchange of ideas, synergies between individuals and organizations, and meaningful extroversion.
Thessaloniki Design Week has been established as an institution for the city, giving the chance of expression, reflection and synergies in all areas and aspects of creativity. It constitutes a space of opportunities and extroversion for the entrepreneurship of the city in many ways. Multiple benefits are gained more widely in various areas, such as tourism and culture, from an event whose internationalization may generate high attendance.
DataScouting is also member of the Innovative Design Cluster, which is participating in the 2nd Thessaloniki Design Week, exhibiting in Pavilion 10 of the Thessaloniki International Exhibition and Congress Center.
For more information & registration, go to Thessaloniki Design Week.
Watch the Thessaloniki Design Week 2021 promo video here.